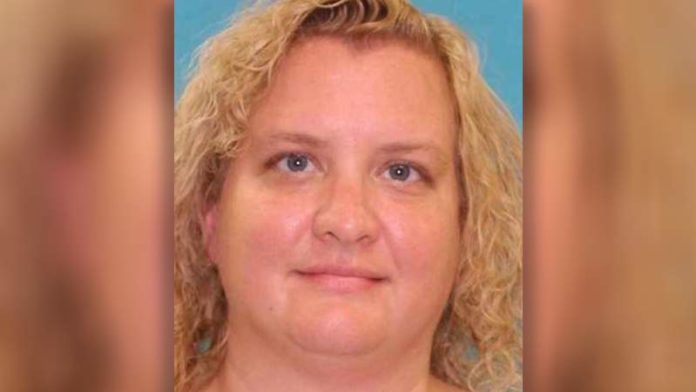 Woman accused in kidnapping where 15-year-old was tied with extension cords, beaten with aluminum bat remains at large
HUMBLE, Texas – Constable Mark Herman's Office is asking for the assistance of the public to find a wanted fugitive, Zonia Hutto. She is currently wanted for aggravated kidnapping.
Herman says Hutto "was instrumental in a kidnapping of a 15 year old juvenile male in the Atascocita North subdivision. The juvenile was dragged inside a vacant residence, tied up with an extension cord and assaulted with a bat."
"If you know of her whereabouts, you are urged to contact 281-376-3472 or your local law enforcement.
KTRK reported: Court documents said the victim, a 15-year-old boy, was riding his bicycle on the sidewalk and was passing by a residence on Misty Pines when he was approached by two Hispanic men. The men forced the victim to stop his bike, at which point they grabbed the teen, beat him up and dragged him into another nearby residence and into one of the bedrooms, according to court documents.
Inside the room, a woman identified as 37-year-old Zonia Hutto told the Hispanic men that the victim has been paid to shoot up her house, which had been involved in a drive-by shooting in October 2020, court records show, according to court records. The two Hispanic men tied up the teen with an extension cord and Hutto's boyfriend — identified as 46-year-old Angel Torres — began punching him and beating him with an aluminum bat, according to court records.
Facebook Comments
Aaron Salter Jr., Security Guard Killed By Gunman In Grocery Store, Is Being Hailed As A 'Hero'

On Saturday afternoon, a gunman, fueled by hate and wearing military-style clothing, shot many people at a grocery store in Buffalo, New York. 10 people died.
55-year-old Aaron Salter Jr. was a security guard at Tops Friendly Market. He was also an ex-Buffalo police officer. He used his prior training and exchanged gunfire with the gunman, Payton Gendron, 18.
Because of the body armor that Gendron was wearing, Salter's bullets didn't penetrate him. However, Salter was fatally hit by bullets.
"I don't think that anybody could ever anticipate something like this happening. Everybody's hurting right now. Everybody's upset," said Adam Bennefield, Salter's cousin.
Prior to his death, Salter Jr. had operated a dry cleaning company with his wife before she died. She had also been employed at t he grocery store for 15 years.
"I'm a jack of all trades," Salter once stated, as he worked on automobiles for fun.
In 2019, his son, Salter III, expressed how he felt about gun violence. "…we can't even do everyday s–t without having to watch our backs. That's scary af! The sad thing is I feel like a crazy close to home is gonna do something soon. I'm not ready for that."
Salter leaves behind three children to cherish his memory.


Post Views:
17
Aaron Salter Jr., Security Guard Killed By Gunman In Grocery Store, Is Being Hailed As A 'Hero'
25 Year Old Male Fatally Shot Another Injured

Dallas police are investigating a shooting that left a 25 year old man dead early Sunday morning and another injured.
Officers responded to a shooting call around 4:30 a.m. on the 3500 block of Munger Avenue.
Upon arrival they found the victim, Braylon Smith, 25 suffering from a gunshot wound to the head. There was also another person suffering from a gunshot wound to the leg.
Both men were transported to an area hospital where Smith died from his injuries.
Authorities have not apprehended a suspect and are working to determine what led up to the shooting.
During the investigation officers learned that multiple apartments were also shot up.
No other injuries were reported.
This investigation remains ongoing.


Post Views:
2
1 Person Dead, Multiple Others Injured In Church Shooting
One person died and four other people were transported to a hospital with critical wounds after a shooting occurred at a church on Sunday. Another person was also injured.
Close to 1:30 p.m., Orange County, California, deputies arrived to the scene at Geneva Presbyterian Church in Laguna Woods. Then, they found that multiple people had been shot.
Firefighters and paramedics took several people to a medical facility. One person was pronounced dead at the scene.
One person has been apprehended, and the gun was located at the location.
"No one should have to fear going to their place of worship. Our thoughts are with the victims, community, and all those impacted by this tragic event," said California Gov. Gavin Newsom.


Post Views:
1,143