On Thursday, two Texas residents were charged with aggravated assault and kidnapping in Rosenberg after an alleged failure to collect a ransom from the relatives of a Honduran migrant. The migrant's aunt attempted to secure the victim's freedom at a meeting with the alleged traffickers. When an agreement on price could not be met, the alleged smugglers fled the area in a vehicle with the migrant in tow.
The incident occurred in the parking lot of the Brazos Town Center, according to the Rosenberg Police. The migrant's aunt had been notified by the traffickers that her nephew would be returned if a sufficient ransom was paid. After negotiations between the aunt and the traffickers broke down, the aunt was struck by the fleeing smugglers' vehicle. Her injuries are unknown.
Around midnight on Thursday, Rosenberg Police Dispatch Center received a call reporting the incident. Early Friday morning, the alleged trafficker's vehicle was located by a Victoria County Sheriff's deputy on US Highway 59 south of Rosenberg. After a vehicle stop, two suspects and the Honduran migrant were identified.
The smugglers and the Honduran migrant were turned over to Rosenberg Police for investigation.
Rosenberg Police learned the alleged victim purchased passage from Honduras and was ultimately sold between groups of smugglers. After crossing into the U.S., he was moved through a network of stash houses. He was later dumped in an uninhabited area in South Texas due to a perceived law enforcement threat or presence.
The young man wandered for days before coming upon a gas station where he approached a stranger for help. That individual reportedly contacted family members and smugglers who reportedly took the young man and began negotiating with his own family for a release in the Houston area.
Suspects in custody were identified as Ricardo Mejia and Amy Regalado of Falfurrias, Texas. The victim of the alleged kidnapping was identified as a 21-year-old man from Honduras. Mejia and Regalado face charges of Aggravated Kidnapping and Aggravated Assault. They were booked into the Fort Bend County Jail.
In a statement released by the Rosenberg Police Department, Assistant Chief of Police Jerret Nethery stated, "Local law enforcement agencies did an outstanding job putting a stop to a criminal episode that spanned international borders. It is shameful in this day and age, in a country that leads the free world, to have people bought and sold like animals."
Randy Clark is a 32-year veteran of the United States Border Patrol. Prior to his retirement, he served as the Division Chief for Law Enforcement Operations, directing operations for nine Border Patrol Stations within the Del Rio, Texas, Sector.
Teacher Quits After Co-Worker Removes Photos Of Black Leaders Off Of His Wall

After a colleague took down pictures of black heroes off of his wall, a teacher in Florida has resigned from his job.
Michael James, who used to be a teacher at O.J. Semmes Elementary School, in Pensacola, was so distraught that he sent emails. The were addressed to the superintendent of Escambia County, Tim Smith, and Governor Ron DeSantis. He stated that he had been a special education instructor for 15 years and was appalled when the teacher changed his bulletin board.
The school demographics and surrounding community is predominantly Black. James says that he uses Black heroes like Martin Luther King Jr., Barack Obama, and Harriet Tubman to inspire his students.
Teachers are allowed to customize their classrooms as they choose. James said that he had been working in his classroom when the unidentified teacher started taking things down, citing that they weren't age-appropriate.
James added that the teacher didn't say anything about race. However, she did grab an image of Barack Obama and said, "you don't need to put this up, either."
The teacher stated that he quit because he didn't want to be employed with a school district that hires employees that behave in this manner.
The school district says that they are investigating the matter, and the appropriate corrective measures will be put into place.


Post Views:
2
Teacher Quits After Co-Worker Removes Photos Of Black Leaders Off Of His Wall
Brother Fights With Sister, Knocking Mother's Casket Over During Funeral

During a funeral service in Richmond, California, a huge fight occurred, involving a brother and sister. It resulted in their mother's casket being knocked over and an apprehension.
The Richmond Police Department noted that the incident happened, on Saturday, at Rolling Hills Memorial Park.
Authorities say that during the fight, the sister's boyfriend intervened which escalated the situation.
The brother then entered his vehicle and tried to hit his sister but missed. On the other hand, he hit another woman and made the mother's casket fall over. It was documented that the body did not fall out.
The woman who was hit suffered non-life threatening injuries.
The brother also drove in grass and gravestones, which led to a water main break. In the end, the water flooded the plot that belonged to the funeral director's mother.
To add, a funeral attendee hit the 36-year-old brother with a cane once he exited his vehicle in order to 'get him under control.'
The brother received medical attention for a wound he suffered during the physical altercation and was then apprehended.
The park estimated that the total amount of damages is about $20,000. The manager noted that the cemetery will be paying for all repairs.
It was also reported that one relative brought a stun gun to the services because of a long history of problems within the family.


Post Views:
3
Brother Fights With Sister, Knocking Mother's Casket Over During Funeral
WATCH: Attorney General Merrick Garland makes statement in wake of FBI raid of Mar-a-Lago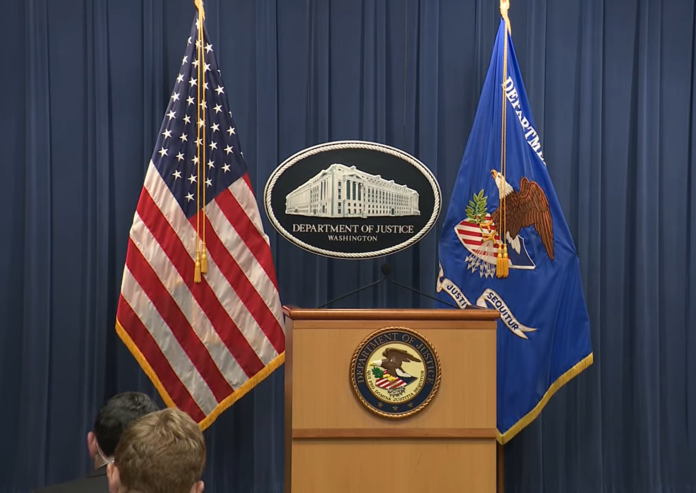 The FBI searched Donald Trump's Mar-a-Lago estate as part of an investigation into whether he took classified records from the White House to his Florida residence, people familiar with the matter said, a dramatic and unprecedented escalation of law enforcement scrutiny of the former president.
Facebook Comments

News by Breaking911