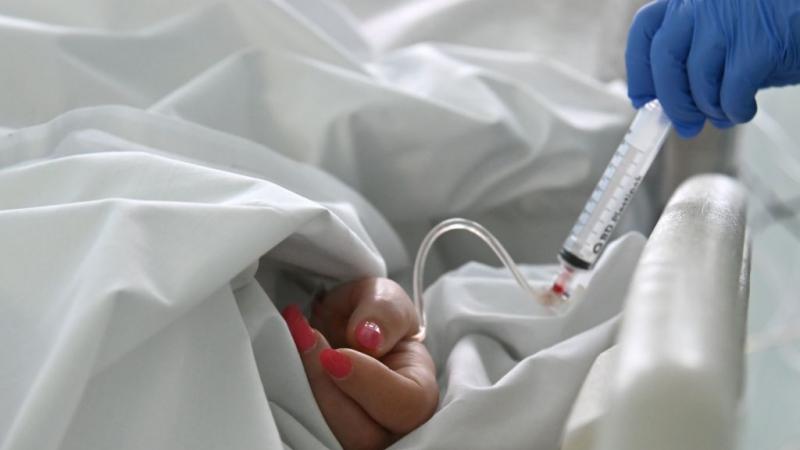 Texas nurse convicted of capital murder for killing four patients with arterial air injections
A Texas jury has convicted a hospital nurse of capital murder in the deaths of four men after he injected air into their arteries.
At the time of the murders, William Davis worked as a nurse at the Christus Mother Frances Hospital in Tyler, about 100 miles east of Dallas. Davis injected at least seven patients in total.
All four of the victims were recovering well from heart surgery when their conditions suddenly rapidly deteriorated confusing their doctors. Security camera footage player during the trial showed Davis entering the room of one of the patients. Several minutes after, the patient's heart monitor alarm sounded and he died quickly thereafter.
Injecting air into an arterial line can cause fatal brain damage, which is just what happened in the cases of Ronald Clark, 68; Christopher Greenaway, 47; Joseph Kalina, 58; and John Lafferty, 74.
Prosecutors are seeking the death penalty for Davis, 37 who worked for the hospital until he was fired about one month prior to his arrest in April 2018.
The jury on Tuesday found Davis guilty. His entencing hearing began on Wednesday. The jury took just one hour of deliberation to conclude that Davis was guilty, following a trial that began Sept. 28.
A spokesperson for the hospital said, "The jury's decision brings with it a range of emotions for our associates and – most especially – the people and families harmed by Will Davis. We pray for our community and all involved, and hope that the jury's verdict helps bring some closure to those harmed."
'Slutty Vegan' Founder Gifts All Clark Atlanta University Graduates Of 2022 With Their Own LLC
Aisha "Pinky" Cole is a restaurant owner in Atlanta, Georgia. On Saturday, she gifted 800 graduates, from her alma mater, Clark Atlanta University, with a jumpstart to opening their own business.
The Slutty Vegan CEO addressed the Class of 2022 during their commencement exercises. She then gave the whole class a limited liability company, or LLC.
"I partnered with Varo Bank to provide every single graduate in this audience with a new LLC and a path to entrepreneurship. Every single graduate in this audience will leave this stadium as a business owner," she declared.
In 2009, Cole graduated from CAU after studying mass communication/media. She was also previously named Miss Clark Atlanta and was initiated into Delta Sigma Theta Sorority, Inc.
"Pinky Cole had a business and lost everything. My car got repo'd, got kicked out of my house, went flat broke, almost lost my mind. Almost four years later, she now owns and operates a $100 million vegan brand. She found aspirations in those losses. You think I was gonna give up because of some failure? Hell no! And neither will you," Cole said as she spoke to the graduates.
"…the class of 2022. I want you to fail…fail so hard you become an expert in failure and you get a PhD in failology. I want you to fail because failing is not failing at all. It is finding aspiration in the losses."
It is reported that the LLCs that were purchased costs about $400,000.
Cole has a nonprofit, the Pinky Cole Foundation, which strives to empower future generations by providing financial literacy support and entrepreneurship training.


Post Views:
3
'Slutty Vegan' Founder Gifts All Clark Atlanta University Graduates Of 2022 With Their Own LLC
Aaron Salter Jr., Security Guard Killed By Gunman In Grocery Store, Is Being Hailed As A 'Hero'

On Saturday afternoon, a gunman, fueled by hate and wearing military-style clothing, shot many people at a grocery store in Buffalo, New York. 10 people died.
55-year-old Aaron Salter Jr. was a security guard at Tops Friendly Market. He was also an ex-Buffalo police officer. He used his prior training and exchanged gunfire with the gunman, Payton Gendron, 18.
Because of the body armor that Gendron was wearing, Salter's bullets didn't penetrate him. However, Salter was fatally hit by bullets.
"I don't think that anybody could ever anticipate something like this happening. Everybody's hurting right now. Everybody's upset," said Adam Bennefield, Salter's cousin.
Prior to his death, Salter Jr. had operated a dry cleaning company with his wife before she died. She had also been employed at t he grocery store for 15 years.
"I'm a jack of all trades," Salter once stated, as he worked on automobiles for fun.
In 2019, his son, Salter III, expressed how he felt about gun violence. "…we can't even do everyday s–t without having to watch our backs. That's scary af! The sad thing is I feel like a crazy close to home is gonna do something soon. I'm not ready for that."
Salter leaves behind three children to cherish his memory.


Post Views:
17
Aaron Salter Jr., Security Guard Killed By Gunman In Grocery Store, Is Being Hailed As A 'Hero'
25 Year Old Male Fatally Shot Another Injured

Dallas police are investigating a shooting that left a 25 year old man dead early Sunday morning and another injured.
Officers responded to a shooting call around 4:30 a.m. on the 3500 block of Munger Avenue.
Upon arrival they found the victim, Braylon Smith, 25 suffering from a gunshot wound to the head. There was also another person suffering from a gunshot wound to the leg.
Both men were transported to an area hospital where Smith died from his injuries.
Authorities have not apprehended a suspect and are working to determine what led up to the shooting.
During the investigation officers learned that multiple apartments were also shot up.
No other injuries were reported.
This investigation remains ongoing.


Post Views:
2