SPRING HILL, Tenn. — Concerning new details discovered in a human trafficking operation out of Spring Hill. Drugs and a gun were among the items recovered in the sting, that also put a local pastor in the spotlight.
One of the 18 suspects arrested over the weekend is Matthew Brewer, a youth pastor and chaplain within the Tennessee National Guard, according to Spring Hill police.
"He's a trusted figure," Lieutenant Justin Whitwell told local news.
A minister of students, the 47-year-old from Centerville arrested for solicitation of a minor was listed as the youth pastor on the Fairfield Baptist Church website.
"It's a big concern. This guy is dealing with our juveniles every day or every Sunday."
Lt. Whitwell says it's disheartening, as Brewer is also a military official.
"It's a blemish on our armed services. He's a trusted person within the community and he goes and betrays the trust of his community and here locally in Middle Tennessee."
Brewer is one of 18 men Whitwell says were intentionally seeking out sexual activity from a 16-year-old girl in Spring Hill. Lt. Whitwell says the ads were posted online on websites one would have to seek out. The suspects went to meet an underage teen at a local hotel, but instead an undercover officer was inside.
Thirteen were arrested for patronizing prostitution from a minor and five for soliciting. The suspects are from all over the southeast, from Louisiana to Florida.
"Chattanooga, they come from all over, but we have our local ones here that also answered the ad," said Lt. Whitwell.
The hotel room staged with video cameras so the suspects can be prosecuted at the highest charge.
"It is a local establishment here in Spring Hill, and they set up all types of equipment in order to document the investigation."
News 2 reached out to the Hickman County church for comment. They have since removed Brewer's photo from their website. Their statement reads:
"Our Fairfield Baptist Church family was shocked and saddened with the situation this past weekend involving our youth minister. We are prepared to work with law enforcement if asked and, like many others, are hoping to receive information from law enforcement that will help us better understand all the details.
The content of what was shared with us is not aligned with our Biblical values. We met with our church family Sunday to share what little we knew, and our youth minister has been suspended indefinitely from his duties and the church campus pending court proceedings.
We ask that people would pray for the Brewer family and the church family and anyone else involved as we work through what's happened."
A Maury County businessman was also among those busted. Lt. Whitwell said, "That is not something we want to see in our community."
He added that several of the suspects are also repeat offenders.
"We don't know how many times they've done this without being caught."
However, efforts from Spring Hill Police along with TBI, FBI, Homeland Security and the 22nd District Attorney's office will be back.
"It's an ongoing problem that we are trying to eradicate here locally and other jurisdictions. They do these types of operations all the time, so we know we are going to eventually catch you. If you keep doing this, we are going to catch you."

Tenn. School Teacher Charged with 19 Sex Crimes After Allegedly Posting Videos of Students to TikTok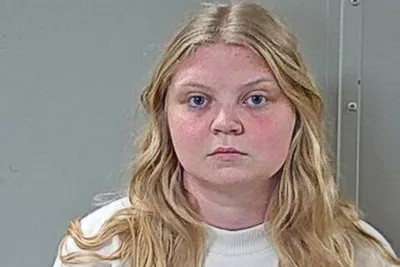 Taylor Cruze resigned in May, allegedly after learning she was the subject of an investigation
A former teacher is facing 19 separate criminal counts in Tennessee where she's accused of posting inappropriate videos of students to TikTok.
Taylor Cruze, whose age was not available, was first arrested in August.
But it wasn't until last week that a grand jury in Smyrna returned an indictment against the former fifth-grade teacher.
A court official confirms to PEOPLE that Cruze faces five counts of exploitation of a minor under 13 by electronic means, five counts of exploitation of a minor by electronic means, and five counts of especially aggravated sex exploitation of a minor.
Additionally, she was charged with three counts of solicitation of a minor — rape of a child, and one count of sexual battery by an authority figure.
A plea hearing for Cruze is scheduled for Sept. 28.
Cruze was released on $100,000 bail. Efforts to reach her by phone were unsuccessful, and it was unclear Tuesday if she had legal representation.
According to WSMV, Cruze allegedly engaged in inappropriate explicit communications and sexual contact with the students.
It was unclear how old the victims in this case are.
Sources told WSMV Cruze allegedly posted videos to TikTok of the students.
The report doesn't include information about the substance of the alleged videos.
Cruze resigned in May from her position as a first-year fifth-grade teacher at John Coleman Elementary School in Smyrna, soon after learning she was the subject of a criminal investigation.
Rape indictment dismissed against Ohio high school football star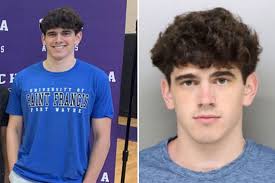 Crosley MacEachen was initially indicted and charged on multiple counts back in June
Ohio prosecutors dropped a rape indictment against a high school football star accused of sexually assaulting a sleeping teenage girl, saying that new "information came to light" in the case.
Crosley MacEachen, 18, who graduated from the Cincinnati Hills Christian Academy, was arrested in June and indicted on rape, sexual battery and gross sexual imposition charges. He was released on $100,000 bond. 
Hamilton County Prosecutor Joseph T. Deters announced Thursday that, "Information came to light after MacEachen was indicted that has changed our understanding of this case."
"This dismissal is not a comment on the guilt or innocence of MacEachen," Deters said in a statement.
Prosecutors did not disclose the new information.
"Our job as prosecutors is to seek justice. It is not to seek convictions," Deters said.

"We have an ethical obligation to only proceed on cases where we believe there is a likelihood of success at trial. Based on the information we have today, we will not be proceeding further."
A teenage girl had alleged that MacEachen, a standout football player at the prestigious private school, assaulted her in her Symmes Township home on Dec. 6, 2020, according to court documents cited by the Cincinnati Enquirer.

The girl said she woke up at about 5 a.m. with MacEachen "on top of her," having sexual intercourse with her, the newspaper reported.
"She pushed him off of her and realized she was naked, despite wearing clothes when she went to sleep," according to the documents.

MacEachen was also accused of previously grabbing the girl's buttocks in a separate incident.
His attorney Scott Croswell had maintained his client's innocence, saying the allegations were "unproven."
MacEachen had planned to play football at the University of St. Francis in Fort Wayne, Indiana in the fall.
Woman accuses Nicki Minaj's husband of rape, says pair harassed her in lawsuit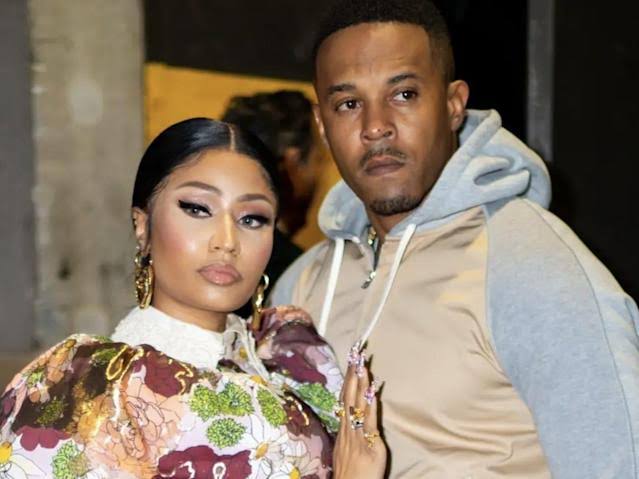 A woman says rapper Nicki Minaj's husband raped her while the two were teens in Queens more than 20 years ago — and the couple then harassed her and tried to intimidate her into recanting, according to a new lawsuit.
Jennifer Hough says in her Brooklyn federal suit that she was raped by Minaj's hubby, Kenneth Petty, in 1994, after she encountered him while waiting for the school bus in Jamaica.
Petty allegedly approached her at the bus stop — then pulled a knife, held it to her back and led her to a nearby house, where he raped her, according to the suit.
After the alleged rape, he got off Hough and stood in front of a mirror while saying, "I am the man. I am the man," the suit states.
Petty was arrested at the time and ended up taking a plea deal, serving more than four years behind bars on the charge of attempted rape, The New York Times reported.
Hough says in her suit that she suffered mental anguish for years after the attack — and then was targeted by Minaj when Petty was arrested in 2020 for failing to register as a sex offender in California over her case.
Minaj called Hough on the phone and offered to "help out" her situation, saying she could fly her and her family to California, according to the suit. Hough declined, the suit states.
The "Starships" rapper also allegedly offered to fly her publicist out to meet Hough to craft a statement for her to recant the accusation, the suit alleges. Hough says she refused.
Then through a series of encounters, Hough and members of her family were allegedly repeatedly offered cash bribes for as much as $500,000 by Minaj and her associates to get her to recant, the suit says.
In one proposed scheme, an old friend of Hough's identified as "Black" in the suit told Hough that Minaj would record "happy birthday" videos for Hough's daughter for her "Sweet 16" if she recanted. Hough says in her suit that she again refused.
Hough is seeking unspecified damages.
A lawyer for Petty did not immediately respond to a request for comment. A rep for Minaj also could not be reached.