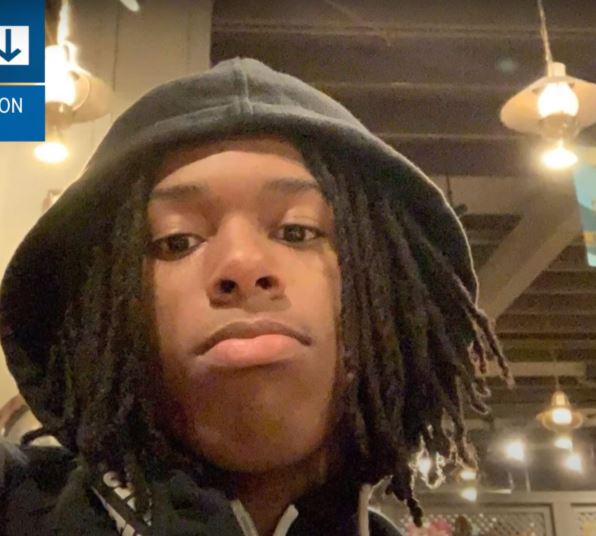 Tennessee Mom Regrets Calling Police on Daughter's Boyfriend After Officer Fatally Shoots Him at School: 'I Am So Sorry'
A Tennessee mother says she wishes she had never called the police on her daughter's Black boyfriend after the conflict ended with an officer fatally shooting him inside a Knoxville high school bathroom.
Anthony J. Thompson Jr., a 17-year-old student at Austin-East Magnet High School, was fatally shot by a Knoxville police officer on Monday, April 12, after his girlfriend's mother called 911.
"Once again, when a Black person is killed, in this case a Black child, the police quickly shape a narrative to justify the death," said civil rights attorney Benjamin Crump, who is representing the family.
Regina Perkins made the call to police after her daughter Alexus Page, who had been dating Thompson for nine months, came home early from school with marks on her face and some hair missing. Page, a junior at the school, said she and Thompson had engaged in a physical fight following an argument.
Page had called her mother from the assistant principal's office and was given permission to sign out and leave early.
According to Perkins, she reached out to Thompson's mother before contacting authorities, but was unable to get in touch with her.
"Alexus told me that she was grabbed and that her hair was pulled, and that is really what led me to feel that I needed to do more," Perkins told the Knoxville News Sentinel.
An officer came to the Perkins' home to take a statement, and Perkins allegedly informed Thompson via text message that an officer would be coming to the school.
Perkins and Page said they told police Thompson probably wasn't armed, but authorities said they were acting on a report that the student was armed when they entered the school. Perkins realized the school was on lockdown after seeing a helicopter above the building.
A struggle occurred between Thompson and multiple officers in the school bathroom and the teen was fatally shot.
"I am so sorry, and I never meant for anything to happen to him," Perkins said. "We are mourning, my daughter is grieving the loss of her first love and we also want answers and justice in this case."
In the days following the shooting, confusion spread about what had occurred. Originally it was reported that a bullet fired from Thompson's gun struck an officer, although the Tennessee Bureau of Investigation later clarified that the bullet that hit the officer wasn't discharged from the student's gun.
TBI says the student did have a gun, which was fired at one point during the struggle and "was followed by law enforcement firing twice."
Investigators have not specified about how many officers were in the bathroom with Thompson during the struggle or about which officer fired the shots.
Brian Buckmon, the owner of Patton Funeral Home, is planning Thompson's funeral. "They want the truth, they want the facts," Buckmon said of the family. "Let them fall where they fall, if there's accountability deal with it if there's changes, procedures, and policies that need to happen then by golly do it."
Adam Willson, the officer was shot in the leg and is recovering after surgery. Officer Brian Baldwin, Lt. Stanley Cash and Officer Jonathon Clabough were also identified as having been involved in the shooting. All four officers have been placed on administrative leave.
Knoxville Mayor Indya Kincannon has called for the body camera footage of the shooting to be made public.
"We pursued these (body-worn) cameras as another tool to build public trust and to be transparent with the community," she said. "Transparency also means timely, not six or 18 months later, but as soon after an incident as possible. Every day the video is not released perpetuates rumors and misinformation. Every day that video is not released undermines public trust."
But Knox County District Attorney General Charme Allen said she has no plans to release the video before the case is concluded. She said she will decide whether or not to bring charges against the officer who shot Thompson at the conclusion of the TBI's investigation.
According to Perkins, Thompson's death followed a tumultuous relationship with her daughter. Perkins said she didn't approve of the relationship and that Thompson was facing struggles in his life.
"She loved him, she really did," Perkins said. "He was a good kid, he had dreams and goals, but he had some struggles. They both have gone through a lot of things, and as a parent, I felt it was necessary to protect her after I saw things were heading in the wrong direction the last few months."
Perkins felt the relationship had become unhealthy and sought to keep the teens separated at school, as the two had gotten into physical fights before. She said she was bothered the teens were even allowed near each other at the school, following her complaints about keeping them separated.
"I tried my best to make sure every measure was taken. It's hard to keep these teenagers away from each other," she said.
She called Thompson's death preventable, and expressed her condolences to the family. "That child should not be dead…We all want justice for Anthony. He should still be here.
Terrell High School Student, Ja'Naria Jackson, 16, Wins Two Gold Medals At The 2022 Texas Track & Field State Championships

16-year-old Ja'Naria Jackson, from Terrell High School, has made great accomplishments in the sport that she loves.
Last week, the sophomore competed in the 2022 Texas Track & Field State Championships meet in Austin, Texas. On Thursday evening, Jackson ran in Lane 4 and was victorious over runners from all over the state. She ran 11.74 seconds in the 100m.
As others cheered for her, Jackson ran again. This time she ran 23.69 seconds in the 200m.
In close to two hours, Jackson clinched two State Championships. She has stated that her long days and nights and her persistence has led to her victories.
"… It actually is a blessing. I'm proud, but I will most definitely be coming harder next year," she said.
Jackson attributes her motivation to self-improvement. She strives to better her time, form, method of coming out of the block, and winning at state.
Her regular regimen includes running, block work, and sled pulling. To add, she doesn't take breaks in the summer but works with a personal trainer.
"This has been a wonderful year and hopefully a better year next year," Jackson said.


Post Views:
345
Terrell High School Student, Ja'Naria Jackson, 16, Wins Two Gold Medals At The 2022 Texas Track & Field State Championships
Rapper T-Pain Moves Concert From Deep Ellum To Grand Prairie

Rapper T-Pain is changing his concert schedule. He is taking his 'Road to Wisconsin Tour' further in North Texas after it was supposed to be in Dallas.
The concert was set to take place on May 18 at The Factory in Deep Ellum. It will now occur on June 24 at the Texas Trust CU Theatre in Grand Prairie.
Last month, T-Pain took to social media to question why tickets sales weren't going so well.
"Dallas, what are you doing? I wore cowboy hats many times.. used to raise horses. I feel like I'm part of the city, you know?…wore a regular cowboy and Dallas Cowboys. I've done both! WTF!" Pain stated.
Dallas Mayor Eric Johnson heard about the rapper's comments. He let Pain know that Dallas was safe although many of his fans stated otherwise.
"Dallas is the only Top 10 city in the U.S. where violent crime fell last year and overall crime is down…," Johnson tweeted. "So, you and your concertgoers should feel safe here." Johnson added this comment while tagging Dallas Police Chief Eddie Garcia in the tweet.
However, even though crime decreased last year, there have been multiple shootings that have occurred in Deep Ellum in the last few months. This has resulted in T-Pain moving his concert to Grand Prairie.
Tickets that have been bought for the May show will be valid for the rescheduled show in June.


Post Views:
2,338
Rapper T-Pain Moves Concert From Deep Ellum To Grand Prairie
Netflix Lays Off Close To 150 Employees

Weeks after Netflix reported its first loss in subscribers since 2011, the company has laid off about 150 employees.
"As we explained on earnings, our slowing revenue growth means we are also having to slow our cost growth as a company. So sadly, we are letting around 150 employees go today, mostly U.S.-based," Netflix announced on Tuesday.
The amount of people laid off is close to 2% of Netflix's employees. Those affected will be given a severance package, starting at four months although it could be subject to change.
In April, a financial report detailed that the streaming service lost about 200,000 subscribers in the first quarter. They have added that they are set to lose another 2 million subscribers in the second quarter.
Netflix has attributed the war in Ukraine and harsh competition as reasons why they have lost subscribers.
As of now, Netflix has 221.6 million subscribers. They are still ahead of their competition.
The company is planning on aggressively monitoring password-sharing. They are also planning to start a "lower-priced ad-supported tier," before the year is over. Their objective is to increase finances and subscribers.
Furthermore, the streaming service has a variety of payment tiers. The plan that most users pay for is $15.49 per month. The price of the lower ad-supported tier hasn't been released.
Other streaming platforms have some of the same offerings. For instance, HBO's ad-free service runs for $15 per month. Their services that contain commercials are $10 per month.


Post Views:
223