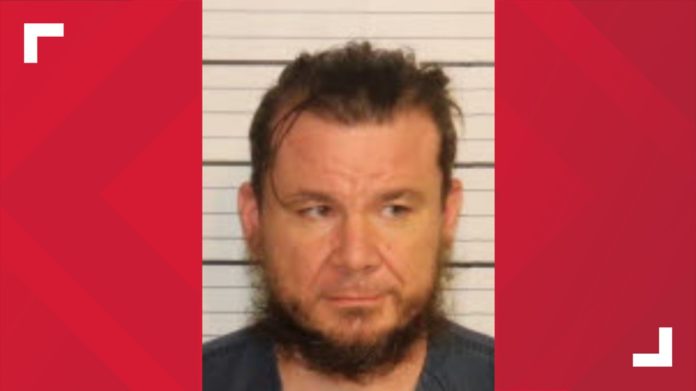 Tenn. Man Who Went On The Run For 4 Years After Pleading To A 2014 Rape Sentenced To Nearly 4 Decades
MEMPHIS, Tenn. – An East Memphis man who was a fugitive for nearly four years before he was captured and convicted of kidnapping and sexual assault was sentenced Tuesday to 37 years in prison without parole, said Shelby County Dist. Atty. Gen. Amy Weirich.
Criminal Court Judge Paula Skahan sentenced Kelvin Montgomery to consecutive terms of 25 years for especially aggravated kidnapping and 12 years for aggravated sexual battery. He was convicted in a jury trial earlier this year.
Montgomery, 55, a self-employed appliance repairman, met the 35-year-old victim the evening of June 15, 2014, at an East Memphis restaurant where she worked. She said she agreed to have a drink with him, but that when they got to his house on Willow Road he became violent.
The woman said Montgomery handcuffed, gagged and choked her before forcing her to have sex. She said she pretended to be unconscious and that when he fell asleep, she managed to escape and run, still handcuffed, gagged and naked, to a neighbor's for help.
Montgomery was arrested five days later and was freed on $100,000 bond the next day. In July of 2016, he pled guilty in court to a series of criminal charges and received a 12-year sentence. He was allowed to temporarily remain free on bond, but then failed to return to court as scheduled.
Instead of surrendering, Montgomery fled and lived on a sailboat in an Orange Beach, Ala., marina under an assumed name until federal marshals captured him in June of 2017.
An Arkansas woman who was with him had been reported missing by her family. She said Montgomery made her use a false name, was abusive to her, and would not let her leave, but she declined to press charges because she feared retaliation by him.
She said Montgomery once threw her overboard while they were sailing in the Gulf of Mexico more than a mile from shore. She said he left her fighting the waves for a period, before eventually helping her back onto the boat.
The woman and the Memphis victim both gave victim-impact statements at Tuesday's sentencing hearing.
Montgomery pled guilty in 2018 in an Alabama federal court to possession of a firearm by a prohibited person (a fugitive from justice.) He was sentenced to 18 months in federal prison, then was returned to the Shelby County Jail.
The case was handled by Chief Prosecutor Eric Christensen of the District Attorney's Special Victims Unit (SVU) and by Chief Prosecutor Carrie Bush of the District Attorney's Vertical Team 4.
---
SCDAO
Facebook Comments



News by Breaking911
19 Year Old Arrested For Murder In Dallas

On August 16, Dallas police arrested 19 year old Anthony Charles Barber Jr in connection with murder.
Authorities responded to a shooting call around 10:20 p.m., on May 20,2022, in the 3000 block of E. Ledbetter Drive.
Upon arrival they found an unidentified male in front of the apartment complex suffering from a gunshot wound.
He was transported to an area hospital where he later succumbed to his injuries.
Barber Jr. was arrested and booked into Dallas County Jail for murder. His bond is set for $500,000.


Post Views:
3
https://www.smashdatopic.com/19-year-old-arrested-for-murder-in-dallas/

Family Mourning After 13 Year Old Boy Dies From Accidental Fentanyl Overdose

A family is mourning after finding a family member deceased in the bathroom from an accidental fentanyl drug overdose.
13 year old Jose Hernandez was found hunched over the bathroom sink dead early Wednesday morning by his grandmother.
The family says Jose had just started 8th grade at Aurora Hills Middle School Tuesday, in Colorado. They believe that Jose got some drugs from another child at the school and died from a fentanyl drug overdose.
His uncle said, "He seemed OK". There was no history of him doing any types of drugs or anything like that. I think it was just the crowd he decided to hang out with, and maybe them thinking it was good to tell him 'hey maybe try this out.'"
He also said, "I would just say to the parents, keep an eye open to your kids if they're feeling sad or depressed or something, help them out you know? I know my nephew wasn't depressed or anything like that, but maybe he was a curious kid and wanted to try it out."
The family is awaiting for the autopsy results to determine Jose's actual cause of death.
Aurora PD is currently investigating this case and have not commented.


Post Views:
2
https://www.smashdatopic.com/family-mourning-after-13-year-old-boy-dies-from-accidental-fentanyl-overdose/

Kraft Heinz Recalls Wild Cherry Flavored Capri Sun's
Kraft Heinz has announced a voluntary recall for Capri Sun Wild Cherry Flavored Juice Drink due to it possibly be contaminated with cleaning solution.
The recall comes after the company received multiple complaints about the taste.
After investigating they stated that a diluted cleaning solution was 'inadvertently introduced into a production line at one of our factories'.
The Kraft Heinz company is working with retailers to remove all potentially affected products from further circulating.
The products affected have a "Best When Used By" date of June 25, 2023.
If you have purchased the items you should not consume it and you should return it to the store for reimbursement.


Post Views:
59
https://www.smashdatopic.com/kraft-heinz-recalls-wild-cherry-flavored-capri-suns/