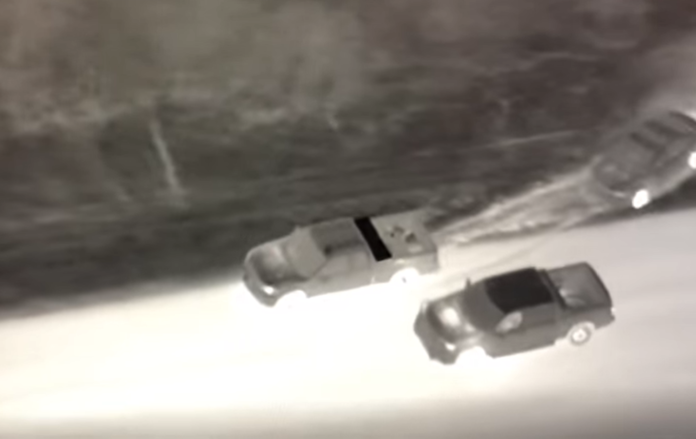 RAW VIDEO: Cops Use PIT Maneuver To Stop Pickup With Dead Teenager In The Bed During High-Speed Chase In Florida
MARTIN COUNTY, FL — A man's body was found in the bed of a pickup truck in Martin County after a high-speed chase that started Friday evening in Palm Beach County.
The following is a summary from the Martin County Sheriff's Office:
17-year old Carlos Castaneda had no regard for anyone's life when he led PBSO deputies on a pursuit through Palm Beach County. Castaneda, of Lake Worth, just murdered another man in Palm Beach County last night, then fled in his pick-up truck, making his reckless way northbound on I-95.
The Martin County Sheriff's Office was alerted to the oncoming pursuit and were waiting. Minutes after crossing into Martin County, Watch Commander, Lt. Mike Dougherty gave the command—Find a safe opportunity and "stop that car". Road Patrol Deputies, Marine Units, Criminal Investigations, Special Investigation and Aviation Units set-up. The vehicle exited Martin Highway where units, including SID Lieutenant Tom Smith were seizing upon that right moment. After a 50-mile pursuit, watch Lt. Smith strategically bring this dangerous situation to an end.
Carlos Castaneda and his female passenger had no other options but to surrender. Castaneda was charged in Martin County with felony fleeing and eluding. Tragically, deputies and detectives confirmed that the body of the man that was murdered was still in the bed of Castaneda's pick-up truck.
Authorities from PBSO were also on-scene and are investigating the circumstances surrounding the murder. Castaneda will face his charges here, then face other charges in Palm Beach County.
We have to take a moment and commend our MCSO Team, Road Patrol, Aviation, Criminal Investigations, Special Investigations, and dispatchers for the amazing job stopping this suspect who was moving at more than 100-miles per hour, with a deceased person in his vehicle. Specifically, Watch Commander Lt. Mike Dougherty who was calling the shots, and Lt. Tom Smith who disabled the vehicle, ending this dangerous event. We have the best of the best and we are very proud!
A Palm Beach County homicide investigation spilled into Martin County when a pickup driver sped into Hobe Sound with a dead teenager in the back

— TCPalm (@TCPalm) August 21, 2021
Facebook Comments
Aaron Salter Jr., Security Guard Killed By Gunman In Grocery Store, Is Being Hailed As A 'Hero'

On Saturday afternoon, a gunman, fueled by hate and wearing military-style clothing, shot many people at a grocery store in Buffalo, New York. 10 people died.
55-year-old Aaron Salter Jr. was a security guard at Tops Friendly Market. He was also an ex-Buffalo police officer. He used his prior training and exchanged gunfire with the gunman, Payton Gendron, 18.
Because of the body armor that Gendron was wearing, Salter's bullets didn't penetrate him. However, Salter was fatally hit by bullets.
"I don't think that anybody could ever anticipate something like this happening. Everybody's hurting right now. Everybody's upset," said Adam Bennefield, Salter's cousin.
Prior to his death, Salter Jr. had operated a dry cleaning company with his wife before she died. She had also been employed at t he grocery store for 15 years.
"I'm a jack of all trades," Salter once stated, as he worked on automobiles for fun.
In 2019, his son, Salter III, expressed how he felt about gun violence. "…we can't even do everyday s–t without having to watch our backs. That's scary af! The sad thing is I feel like a crazy close to home is gonna do something soon. I'm not ready for that."
Salter leaves behind three children to cherish his memory.


Post Views:
17
Aaron Salter Jr., Security Guard Killed By Gunman In Grocery Store, Is Being Hailed As A 'Hero'
25 Year Old Male Fatally Shot Another Injured

Dallas police are investigating a shooting that left a 25 year old man dead early Sunday morning and another injured.
Officers responded to a shooting call around 4:30 a.m. on the 3500 block of Munger Avenue.
Upon arrival they found the victim, Braylon Smith, 25 suffering from a gunshot wound to the head. There was also another person suffering from a gunshot wound to the leg.
Both men were transported to an area hospital where Smith died from his injuries.
Authorities have not apprehended a suspect and are working to determine what led up to the shooting.
During the investigation officers learned that multiple apartments were also shot up.
No other injuries were reported.
This investigation remains ongoing.


Post Views:
2
1 Person Dead, Multiple Others Injured In Church Shooting
One person died and four other people were transported to a hospital with critical wounds after a shooting occurred at a church on Sunday. Another person was also injured.
Close to 1:30 p.m., Orange County, California, deputies arrived to the scene at Geneva Presbyterian Church in Laguna Woods. Then, they found that multiple people had been shot.
Firefighters and paramedics took several people to a medical facility. One person was pronounced dead at the scene.
One person has been apprehended, and the gun was located at the location.
"No one should have to fear going to their place of worship. Our thoughts are with the victims, community, and all those impacted by this tragic event," said California Gov. Gavin Newsom.


Post Views:
1,143