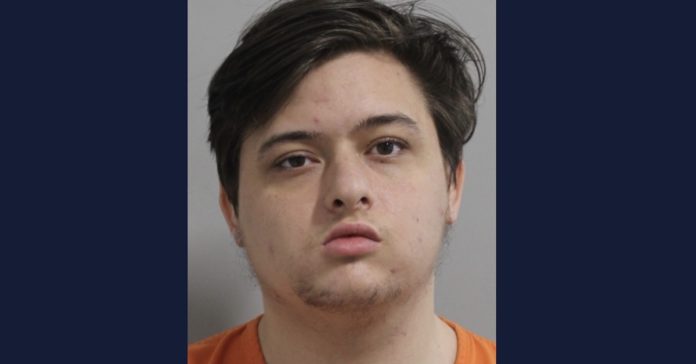 'He's Dead Now:' Florida Man Calls 911 on Himself and Admits To Murdering His Father – [911 AUDIO]
Winter Haven, FLA. – On Sunday, July 31, 2022, PCSO deputies arrested 21-year-old Kyle Raemisch of Winter Haven after he fatally shot his 52-year-old father in their shared home and then called 911 to report it. He has been booked into the Polk County Jail and charged with first degree murder, a capital felony.
Just after 10:00 a.m. that morning, PCSO received two 911 calls about the incident: one call from a neighbor who called to report that the suspect was shooting a gun in the garage — while that caller was on the line with the dispatcher he reported seeing the victim deceased in the garage; and one call from the suspect stating he had shot the victim and that the victim was dead.
The following are excerpts from Raemisch's affidavit:
Upon arriving on scene, Deputies loc ated the suspect, Kyle Raemisch, and detained him. Multiple Deputies entered the residence through the open garage door and observed the victim lying on the garage floor, obviously deceased. Law enforcement conducted a safety sweep of the residence to ensure no other victims were present. Located on a shelf directly across from the inside garage door was a black, Sig Sauer a (9MM) semi-automatic handgun.
Located on the floor of the garage were 14 spent shell casings. Located in the foyer directly in front of the garage door was 1 spent shell casing. In total, fifteen (15) spent shell casings were located at the scene. Located on the garage floor, the decedent was lying on his side with apparent gunshot wounds throughout his body. On the south end of the garage were two (2) apparent bullet holes to a garage door. Next to the door was a surfboard with apparent entry bullet holes. Both the door and the surfboard were directly behind the decedent's body.
Prior to Law Enforcement arriving, suspect Kyle Raemisch contacted 911. The suspect stated to the 911 dispatcher he had shot the victim and was following instructions from the 911 dispatcher. When asked where the suspect shot the victim he stated "The head." When asked why he shot the victim, the suspect stated "Because of the money." The suspect stated he has been held hostage for far too long. When asked how many time he shot the victim the suspect stated "Too many times."
While on scene, I made contact with suspect Kyle Raemisch and read him his Miranda Rights from an agency issued Miranda card. While reading the suspect his rights, he quickly stated he wanted a lawyer.
---
PCSO
Facebook Comments



News by Breaking911
19 Year Old Arrested For Murder In Dallas

On August 16, Dallas police arrested 19 year old Anthony Charles Barber Jr in connection with murder.
Authorities responded to a shooting call around 10:20 p.m., on May 20,2022, in the 3000 block of E. Ledbetter Drive.
Upon arrival they found an unidentified male in front of the apartment complex suffering from a gunshot wound.
He was transported to an area hospital where he later succumbed to his injuries.
Barber Jr. was arrested and booked into Dallas County Jail for murder. His bond is set for $500,000.


Post Views:
3
https://www.smashdatopic.com/19-year-old-arrested-for-murder-in-dallas/

Family Mourning After 13 Year Old Boy Dies From Accidental Fentanyl Overdose

A family is mourning after finding a family member deceased in the bathroom from an accidental fentanyl drug overdose.
13 year old Jose Hernandez was found hunched over the bathroom sink dead early Wednesday morning by his grandmother.
The family says Jose had just started 8th grade at Aurora Hills Middle School Tuesday, in Colorado. They believe that Jose got some drugs from another child at the school and died from a fentanyl drug overdose.
His uncle said, "He seemed OK". There was no history of him doing any types of drugs or anything like that. I think it was just the crowd he decided to hang out with, and maybe them thinking it was good to tell him 'hey maybe try this out.'"
He also said, "I would just say to the parents, keep an eye open to your kids if they're feeling sad or depressed or something, help them out you know? I know my nephew wasn't depressed or anything like that, but maybe he was a curious kid and wanted to try it out."
The family is awaiting for the autopsy results to determine Jose's actual cause of death.
Aurora PD is currently investigating this case and have not commented.


Post Views:
2
https://www.smashdatopic.com/family-mourning-after-13-year-old-boy-dies-from-accidental-fentanyl-overdose/

Kraft Heinz Recalls Wild Cherry Flavored Capri Sun's
Kraft Heinz has announced a voluntary recall for Capri Sun Wild Cherry Flavored Juice Drink due to it possibly be contaminated with cleaning solution.
The recall comes after the company received multiple complaints about the taste.
After investigating they stated that a diluted cleaning solution was 'inadvertently introduced into a production line at one of our factories'.
The Kraft Heinz company is working with retailers to remove all potentially affected products from further circulating.
The products affected have a "Best When Used By" date of June 25, 2023.
If you have purchased the items you should not consume it and you should return it to the store for reimbursement.


Post Views:
59
https://www.smashdatopic.com/kraft-heinz-recalls-wild-cherry-flavored-capri-suns/