Andrew Delke listens to victim impact statements from the family of Daniel Hambrick as he pleads guilty to manslaughter on Friday, July 2, 2021 in Nashville, Tenn. Delke pleaded guilty to manslaughter over the death of 25-year-old Daniel Hambrick in 2018 as part of an agreement with prosecutors. (Josie Norris/The Tennessean via AP, Pool)

Vickie Hambrick is restrained after lunging at Andrew Delke as he was in court to plead guilty to manslaughter on Friday, July 2, 2021 in Nashville, Tenn. Delke pleaded guilty to manslaughter over the death of 25-year-old Daniel Hambrick in 2018 as part of an agreement with prosecutors. (Josie Norris/The Tennessean via AP, Pool)

Andrew Delke and his attorney David Raybin stand in court as Delke pleads guilty to manslaughter on Friday, July 2, 2021 in Nashville, Tenn. Delke pleaded guilty to manslaughter over the death of 25-year-old Daniel Hambrick in 2018 as part of an agreement with prosecutors. (Josie Norris/The Tennessean via AP, Pool)

Andrew Delke sits in court before he pleads guilty to manslaughter on Friday, July 2, 2021 in Nashville, Tenn. Delke pleaded guilty to manslaughter over the death of 25-year-old Daniel Hambrick in 2018 as part of an agreement with prosecutors. (Josie Norris/The Tennessean via AP, Pool)

Vickie Hambrick is restrained after lunging at Andrew Delke as he was in court to plead guilty to manslaughter on Friday, July 2, 2021 in Nashville, Tenn. Delke pleaded guilty to manslaughter over the death of 25-year-old Daniel Hambrick in 2018 as part of an agreement with prosecutors. (Josie Norris/The Tennessean via AP, Pool)
NASHVILLE, Tenn. (AP) — The mother of a Black man fatally shot by a white former Nashville officer sobbed, screamed and knocked over a courtroom lectern Friday as she begged a judge not to accept a plea deal she says was struck in secret without her knowledge, a chaotic scene that briefly delayed the hearing before the judge accepted the agreement.
Former officer Andrew Delke pleaded guilty to manslaughter over the death of Daniel Hambrick, 25, in 2018 as part of an agreement with prosecutors.
Delke will serve a three-year prison sentence. As part of the agreement, he won't pursue parole or appeal the case. However, Delke's defense team said he will likely serve a year and a half in jail with standard credits.
The hearing turned volatile as Hambrick's mother, Vickie, gave a lengthy statement as family members and others applauded. Other supporters, outside the courtroom in the hallway, banged on the door in support. Delke's family sat on the other side of the courtroom with security guards.
"I hate you," Vickie Hambrick screamed over and over again, while also yelling out profanities, directing some at Delke and prosecutors.
In a particularly chaotic moment, the mother knocked over the lectern and a computer monitor and family members rushed to her side. Delke and Judge Monte Watkins were briefly ushered out of the courtroom.
Delke was about to face trial for a first-degree murder charge, but on Thursday, his attorney announced he had agreed to plead guilty to voluntary manslaughter.
"I hope this case can contribute positively about the much needed discussion about how police officers are trained and how we as a community want police officers to interact with citizens. I am deeply sorry for the harm my actions caused," Delke said shortly after entering his plea, his voice cracking at times.
A group of roughly two dozen protesters gathered outside the courthouse, chanting "no racist police" to show their opposition to Delke's plea deal. Others wore shirts noting that police officers and white people receive lighter penalties for committing the same crimes as Black and brown people.
Hambrick's family said they were not contacted or consulted and did not know about the plea deal until after it was done.
"I have contempt for this system. I have contempt for this plea. I have contempt for the (Fraternal Order of Police). And I have a special contempt for Andrew Delke. May you all rot in hell," said attorney Joy Kimbrough, who read the statement of Vickie Hambrick as she wept behind her.
District Attorney Glenn Funk told reporters afterward that he informed Hambrick's family attorney of the deal Wednesday and met with Vickie Hambrick on Thursday. He said has been in contact with them for three years, knew Vickie Hambrick wanted Delke to be convicted of murder and sentenced to prison for life, and he had to decide what was in the best interest for the state.
He said there was a "very large percentage" chance that the case would have ended in a hung jury, which he said would have meant the emotion seen in the courtroom Friday "would have been played out 100-fold." Funk also called it "significant progress" that "tonight will be the first night Nashville has had a police officer in jail for shooting a Black man on duty."
"I was not willing to risk not having a felony conviction, not having him off the force, not having him incarcerated, not having him be able to make a guilty plea where he conceded that he did in fact use deadly force that was not reasonably necessary," Funk said.
Delke, 27, submitted his resignation Thursday. He had been decommissioned, which means he had to turn over his gun but was able to work a desk job and still get paid.
After COVID-19 delays and pretrial back-and-forth, jury selection was slated to start next week . The trial was going to center on a handgun Hambrick was holding that Delke claims was pointed at him for a moment, which prosecutors dispute and video footage does not show.
Prosecutors focused on surveillance footage that captured the shooting, in which Delke stops chasing and shoots the fleeing man. Defense attorneys have contended there was a 36-foot (11-meter) blindspot and plenty could have happened there. There were dozens of cameras, and defense attorneys contended that it was possible that more footage was caught of that blindspot, but wasn't reviewed by investigators before it was automatically overwritten on the system.
The month after the shooting, Funk released surveillance footage of the shooting publicly, sparking wider attention and outcry. Delke was charged in September 2018, and the shooting caused enough backlash that voters that November installed a community oversight board for Nashville's police department.
Since 2005, there have been 143 nonfederal sworn law enforcement officers with arrest powers arrested for murder or manslaughter resulting from an on-duty shooting throughout the U.S., with only 45 convicted of a crime resulting from the on-duty shooting, according to a tally by Bowling Green State University criminal justice professor Philip Stinson before Delke's plea. Another 45 of the cases are still pending, according to the findings.
Delke's attorneys argued the officer followed his training and Tennessee law in response to "an armed suspect who ignored repeated orders to drop his gun." Funk argued Delke had other alternatives, adding that the officer could have stopped, sought cover and called for help.
Nashville's Metro Council has approved a $2.25 million settlement to resolve a lawsuit by Hambrick's family.
For Vickie Hambrick, who is legally blind, the loss of her only child will forever haunt her.
"My son was my eyes," Kimbrough said, reading Vickie Hambrick's statement. "Since he's been gone, things have not been the same and they never will be."
Police Officer Terminated After Allegedly Shooting Man In Wheelchair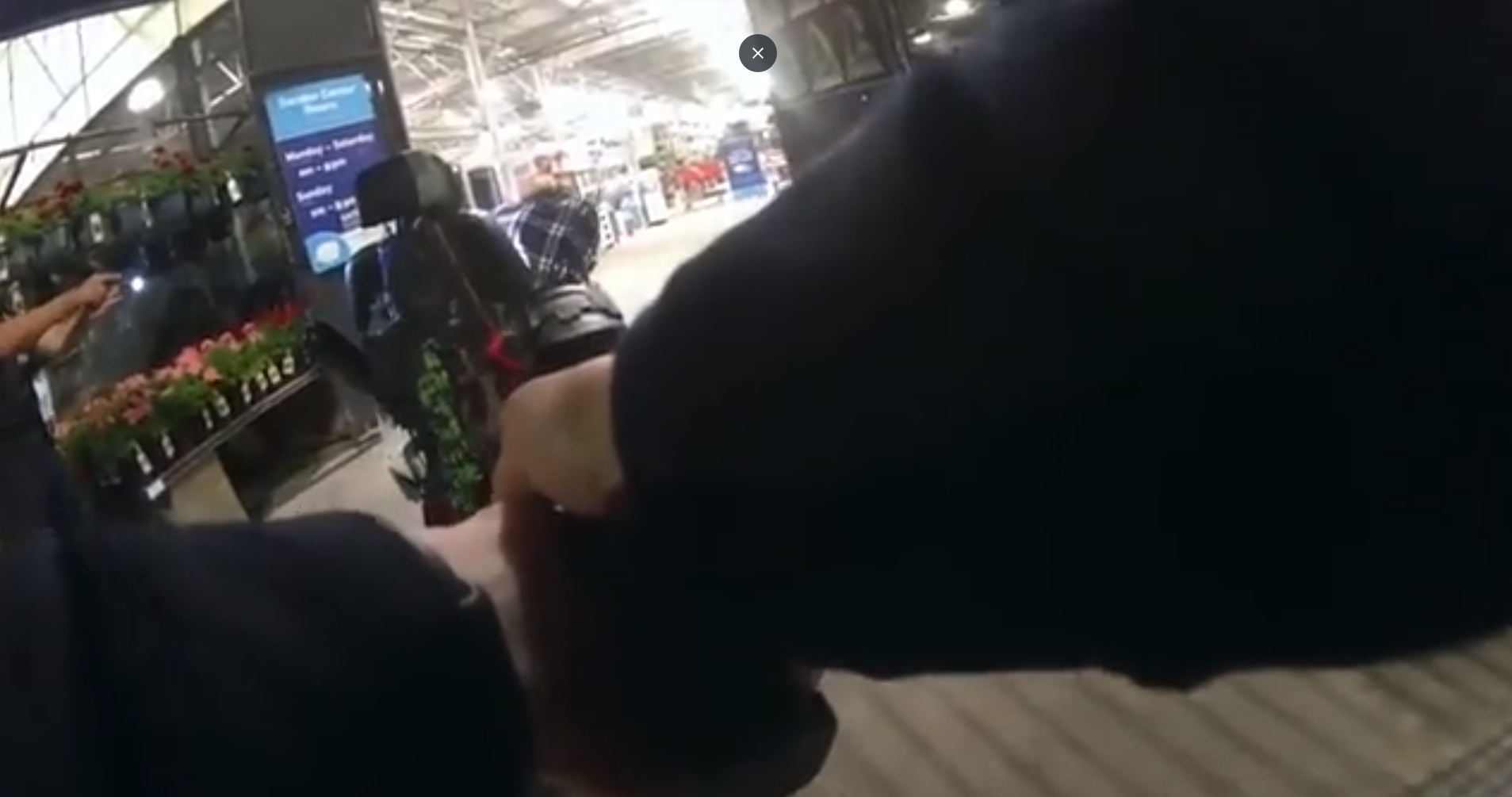 Tucson, Arizona police officer, Ryan Remington, has been terminated after fatally shooting a man who was sitting in a mobility scooter.
On Tuesday, released bodycam and surveillance recordings showed 61 year-old Richard Lee Richard get shot nine times. Richards had allegedly stolen a toolbox from Walmart.
The officer and a store associate followed Richards through a parking lot as he was in the wheelchair.
Remington requested to see Richards's receipts. Instead the man displayed a knife and traveled towards another store.
"If you want me to put the knife down, you're going to have to shoot me," a worker stated that Richard's said.
Rioter who bragged she wouldn't go to jail gets prison term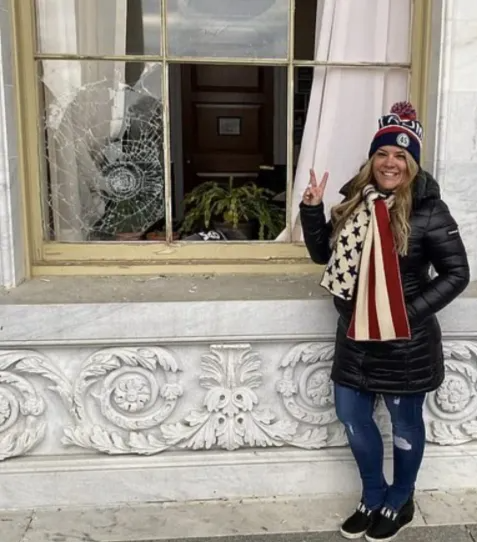 A real estate agent from suburban Dallas who flaunted her participation in the Jan. 6 riot at the U.S. Capitol on social media and later bragged she wasn't going to jail because she is white, has blond hair and a good job was sentenced on Thursday to two months behind bars.
While some rioters sentenced for the same misdemeanor conviction have received only probation or home confinement, prosecutors sought incarceration for Jennifer Leigh Ryan of Frisco, Texas, saying she has shown a lack of candor and remorse for her actions when the pro-Trump mob attacked the Capitol building and delayed Congress' certification of Joe Biden's Electoral College victory.
They also said Ryan's belief that she's shielded from punishment shows she doesn't grasp the seriousness of her crime.
Ryan wasn't facing a felony for more serious conduct, but U.S. District Judge Christopher Cooper said she was still among the mob who overnumbered police in an attack that led to the deaths of five people and will have a lasting effect on government institutions.
Though Ryan said she was sorry for her actions, Cooper questioned whether she is remorseful and has respect for the law.
"Your actions since Jan. 6 make me doubt some of those things," the judge said.
Prosecutors said Ryan traveled to Washington on a jet chartered by a Facebook friend, described Trump's rally before the riot as a prelude to war, livestreamed her entry into the building as alarms sounded, participated in chants of "Fight For Trump," tweeted a photo of herself next to broken windows outside the Capitol and later said she deserved a medal for what she did.
Her lawyer responded that she was in the building for only two minutes, didn't act violently and has a First Amendment right to speak up on social media.
The judge then referred to Ryan's March 26 tweet in which she wrote, "Definitely not going to jail. Sorry I have blonde hair white skin a great job a great future and I'm not going to jail. Sorry to rain on your hater parade. I did nothing wrong."
In a letter to the judge, Ryan denied believing she was immune to punishment, saying she was responding to people who made fun of her appearance and called for her to be imprisoned. She said her attorney told her at the time that prosecutors would be recommending a sentence of probation.
"I was attacked and I was answering them," Ryan said in court.
She is the 10th person charged in the Jan. 6 attack to get a jail or prison sentence. More than 650 people have been charged for their actions at the Capitol.
Prosecutors said Ryan has since downplayed the violence at the Capitol and falsely claimed to probation authorities that she didn't know there was a riot until she came to the Capitol, even though she had recorded herself in a hotel room watching news coverage of rioters climbing the walls of the Capitol.
After the riot, Ryan said she faced a backlash that included death threats, public heckling and graffiti painted on her real estate signs. She said she had to change her name and disguise herself in public.
Ryan tweeted a photo of herself next to broken windows and holding her fingers in a V sign, with a caption saying, "Window at The capital. And if the news doesn't stop lying about us we're going to come after their studios next…"
Shortly afterward, Ryan posted another tweet about a crowd damaging equipment belonging to news organizations, including The Associated Press. She tweeted it was a "cool moment" when rioters "went to town on the AP equipment."
Ryan is expected to start serving her sentence in January.
Also on Thursday, a Maryland woman who joined the mob's attack was sentenced to three years of probation, including two months of home detention.
Brittiany Angelina Dillon said her actions at the Capitol were "inexcusable and unacceptable." She referred to Jan. 6 as the worst day of her life.
"I never want to step foot in Washington, D.C., again, and I love that city," she said. "Ï don't want to think about that day. It's horrible."
Judge Dabney Friedrich said text messages show Dillon clearly anticipated violence when she went to Washington on Jan. 6 and seemed intent on doing her part to stop Congress from certifying Biden's victory.
The judge said she was troubled by statements that Dillon made before and after the riot, including her reference to law enforcement officers as "devils."
"The attack she participated in was an attack on our institutions of government, the rule of law and our democratic process," Friedrich said.
According to prosecutors, Dillon pushed through a crowd of rioters to approach an entrance to the Capitol but was pushed back before she could make it beyond the building's threshold.
She wasn't accused of engaging in any violence or property damage. Dillion pleaded guilty in July to misdemeanor disorderly conduct in a Capitol building. _____ Billeaud reported from Phoenix and Kunzelman from College Park, Maryland.
81-year-old pharmacist charged with trading deadly drugs to addicted customers for sex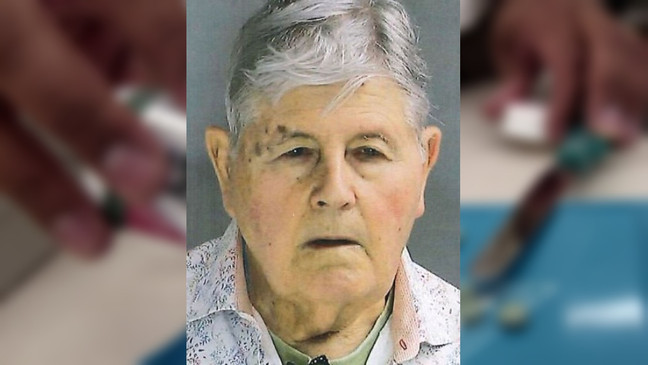 An 81-year-old pharmacist in Pennsylvania has been arrested and charged with trading pain medication for sexual favors from customers.
The Delaware County District Attorney's Office wrote in a Nov. 1 statement that Martin Brian was arrested and charged with distributing drugs from his pharmacy in Media, Penn., in return for sex from addicted customers who had no prescriptions.
Brian was charged with "multiple counts of possession with intent to deliver a controlled substance, distribution of a controlled substance to a drug-dependent person, the dispensing of a controlled substance in a manner inconsistent with the rules of the medical profession, the criminal use of a communication facility, and sexual extortion," according to the District Attorney's office.
Jack Stollsteimer, Delaware County District Attorney, said:
He was giving out those drugs to people who did not need them, people who were addicted to them, just so he could get what he wanted from them, which was sexual gratification.
The investigation was launched in April when police were notified about two people who were passed out inside a car parked behind the Murray-Overhill Pharmacy on State Street.
As the cops identified the occupants, a woman came out of the back of the pharmacy. Seeing the officers, she went back inside. Brian then came out of the store.
The cops questioned the two and became suspicious when their statements contradicted each other.
They then seized the woman's mobile phone, where they found messages sent by the pharmacist instructing her on how to reply to police questions.
An investigation into the pharmacy was opened. An audit of its records determined there were large amounts of missing medications that had not been properly accounted for.
The analysis found the pharmacy run by Brian was the biggest purchaser in the local ZIP code of highly addictive drugs, such as oxycodone, Xanax and the deadly substance fentanyl between 2016 and 2021.
Investigators also found around $50,000 in cash in a drawer inside the store.
The woman previously questioned later confessed to police she had been exchanging sexual favors in return for drugs from Brian on a weekly basis.
Police were then able to identify a second woman, who told the officers the same story.
The second woman told authorities she received oxycodone from the pharmacist in exchange for sex. She then resold it to buy heroin.
Stollsteimer said: "What's going on with fentanyl is destroying families all across Delaware County as we speak."
Brian was not in custody during the investigation but handed himself in to authorities on Nov. 1. His bail bond was set at $250,000.
Thomas Hodnett, Acting Special Agent in Charge of the Drug Enforcement Administration's (DEA) Philadelphia Field Division, called the allegations against Brian "repulsive." He said they "demonstrate Brian's total disregard for his legal and ethical responsibilities as a pharmacist."
A preliminary hearing has been scheduled for Nov. 17 before Magisterial District Judge Walter A. Strohl.