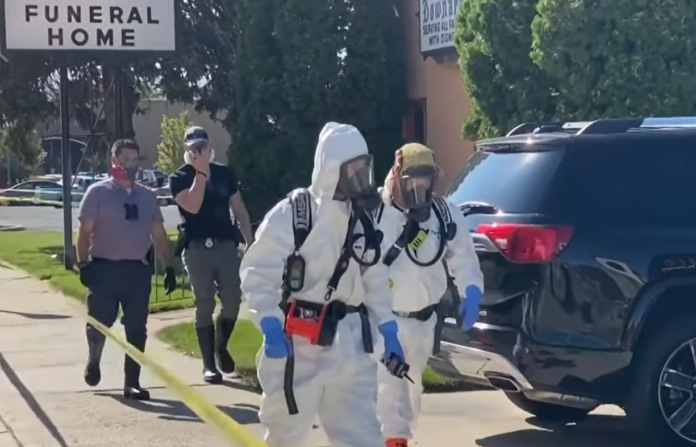 BREAKING: 50+ Decomposing Fetuses Recovered From Funeral Home Belonged To Idaho State University
Below is a news release from Idaho State University.
POCATELLO, IDAHO — The [at least 50] fetuses recovered last week from Downard Funeral Home have been positively identified as remains that were donated to Idaho State University for educational purposes as part of a decades-old biology collection showing fetal development. This collection was transferred to Downard Funeral Home for cremation in April 2017.
During the course of this week's investigation by the Pocatello Police Department, Idaho State learned for the first time that the fetuses were never cremated by the funeral home.
In 2016, the Idaho Legislature passed the Idaho Unborn Infants Dignity Act, Idaho Code 39-9306, which generally prohibits public institutions from using unborn infant remains or embryonic stem cells for research or study. After determining the biology collection likely fell under the purview of the new law prohibiting its educational use, the University reached out to Downard Funeral Home for assistance with cremation and final disposition, as allowed by law. In April 2017, Downard Funeral Home picked up the collection containing 61 fetuses, the majority of which were donated to ISU prior to 1981 and did not contain any new donations beyond 1998.
Idaho State's relationship with Downard Funeral Home ended in May 2020. An internal audit last fall of all records and dealings with Downard Funeral Home indicated multiple causes for concern. The University filed formal complaints with the Bannock County Prosecuting Attorney's Office, the Pocatello Police Department, and the Idaho Division of Occupational and Professional Licenses. At no time during the University's internal audit was it discovered that the fetal remains were never cremated.
Idaho State has been proactive and cooperative in ongoing discussions with state agencies and local law enforcement.
Facebook Comments
Suspect Involved In Cleburne Deadly Hit And Run Still At Large

The Cleburne, Texas, police department arrived at the 100 block of Huron St., regarding a crash on Sunday, May 15, 2022.
During an occurrence, around 8:45 p.m., a man drove off in his car and hit three people. One male died, one woman suffered major wounds, and another woman suffered minor injuries.
The suspect left the scene and authorities haven't been able to locate him. They don't believe that the general public is in danger.
The suspect has been named as Alejandro Lopez. He is said to be a white male with a birth date of 5/26/1998. An arrest warrant has been issued.


The suspect vehicle was found and is described as a Chevy, single cab pickup.
Anyone with information about this matter is asked to call the Cleburne Police Department at(817)-645-0972.


Post Views:
36
Suspect Involved In Cleburne Deadly Hit And Run Still At Large
Passenger Discusses Flying Airplane, With No Experience, After Pilot Fell Unconscious

Darren Harrison, 39, was put in a life or death situation last week. He had to land a small private plane after the pilot experienced a medical emergency.
The incident occurred at Palm Beach International Airport on May 10.
Harrison was a passenger in a single-engine Cessna 208. He had been traveling from the Bahamas and headed to Fort Pierce when the pilot had an aortic aneurysm.
"He said, I got a headache, and I'm fuzzy. And I just don't feel right," Harrison stated in an interview. "And I said, what do we need to do?…At that point, he didn't respond at all."
Harrison had never flown a plane before, but as the aircraft was in a nosedive position, he had to do something.
He went over the unresponsive pilot's body and put his hands on the controls. Harrison then pulled back on the stick to get the plane in the correct position. He said that it was 'common sense.'
Robert Morgan, a air traffic controller and part-time flight instructor, assisted Harrison with landing the plane.
"He comes on the radio. He says, hey we're going to have to put the flaps down to help slow you down. He put the flaps down. Immediately, the nose started to come up to a rate that I was comfortable with," Harrison said.
"And I came over the radio, and I said, is it possible for me to land this airplane with no flaps? And he said, no flaps it is. We're gonna land it with no flaps."
A few minutes later, Harrison had landed the plane without incident.
He stated that the thought of dying never entered his mind.
The pilot was transported to a hospital, and his condition was unknown.


Post Views:
15
Passenger Discusses Flying Airplane, With No Experience, After Pilot Fell Unconscious
Arby's Manager Admits To Urinating In Milkshake Machine After Being Caught On Video

An Arby's Manager in Washington State has admitted to peeing in the restaurant's milkshake mix at least two times.
Steven Sharp, 29, was booked into the Clark County Jail on nine charges for downloading and distributing child porn. He also allegedly admitted to having a sexual interest in children.
An investigation was underway into Sharp's digital devices for child pornography. After getting a search warrant and going through his videos, detectives kept finding disturbing videos. On his phone, Sharp recorded himself peeing into a container of Arby's milkshake mix.
Sharp admitted to peeing in the milkshake mixture for sexual gratification at least twice. He said he was "almost sure" he threw the container away, but if he didn't, it would have been combined into the next shift's mixture.
He is facing four counts of possession of depictions of a minor engaged in sexually explicit conduct, four counts of dealing depictions of a minor engaged in sexually explicit conduct, and one count of second-degree assault.
A judge raised his bail on Friday from $5,000 to $40,000. He is scheduled to be arraigned May 25.


Post Views:
2
Arby's Manager Admits To Urinating In Milkshake Machine After Being Caught On Video