NBC 5 reports the first shooting fatality occurred around 7:30 p.m. Friday "in the 7000 block of South Merrill." The victim was walking by a sidewalk when someone shot him multiple times, killing him
Hours later, at 1:15 a.m. Saturday, a man was standing on a sidewalk " in the 1700 block of North Moody" when someone fired shots from a passing sedan. The man was shot in the head and fatally wounded.
Also at 1:15 a.m. Saturday, a 17-year-old was shot and killed while standing in a backyard "in the 6800 block of South Peoria."
The victim of drive-by shooting was discovered shortly after 5 a.m. Saturday "in the 0-100 block of East 79th Street." The victim had been shot multiple times and was pronounced dead at the hospital.
A man was shot and killed at 1:49 p.m. Saturday while walking on the sidewalk "in the 5000 block of West Augusta." Police suspect two gunmen were involved in the man's death.
At 3:52 p.m. a 20-year-old man was shot and killed while sitting in a vehicle "in the 5800 block of South Western." Another individual who was with the 20-year-old was shot as well, but did die.
ABC 7 / Chicago Sun-Times notes the seventh shooting fatality occurred about 8:15 p.m. Saturday, when a 31-year-old man was shot "in the 500 block of East 79th Street." The 31-year-old was on the sidewalk when someone walked up, pulled a gun, and opened fire. He was taken to a hospital and pronounced dead.
Breibart News noted that 13 were shot Thursday alone in Mayor Lightfoot's Chicago, and nearly 30 people were shot on Wednesday.
Chicago Man offered mother money for girl, 5, before trying to pull child away by her hair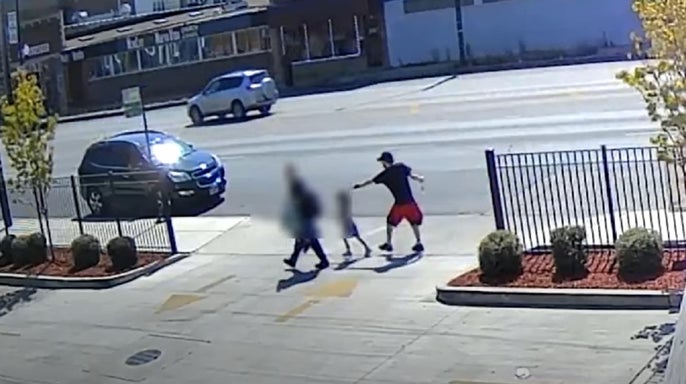 Chicago police are looking for a man who tried to kidnap a 5 year-old girl
Chicago police are looking for the man who was caught on video trying to kidnap a 5-year-old girl – and offering her mother money for the child before trying to pull her away by the hair, authorities said.
The girl and her mother were walking on the sidewalk of West Fullerton Avenue near North Leclaire Avenue just before 12 p.m. Thursday when the stranger began following them, the Chicago Police Department said Saturday.
He then began a conversation with the mother and offered her an unspecified amount of cash for the child.
But the mother refused, at which point the suspect "attempted to grab/pull the juvenile by the hair towards him," police said.
The mother and daughter were able to safely get away from him.
Investigators have described the suspect as being a Hispanic male with bright red hair and a thin beard, who is between 20 and 25 years old, 5-foot-6 to 5-foot-7 inches tall, and 150 to 160 pounds. He was wearing a black t-shirt, a black hat and red shorts.
Police are asking that anyone with information related to the crime call the Area Five Detective Bureau at 312-746-6554.
26-Year-Old Mom Among 6 Killed Monday Alone in Lori Lightfoot's Chicago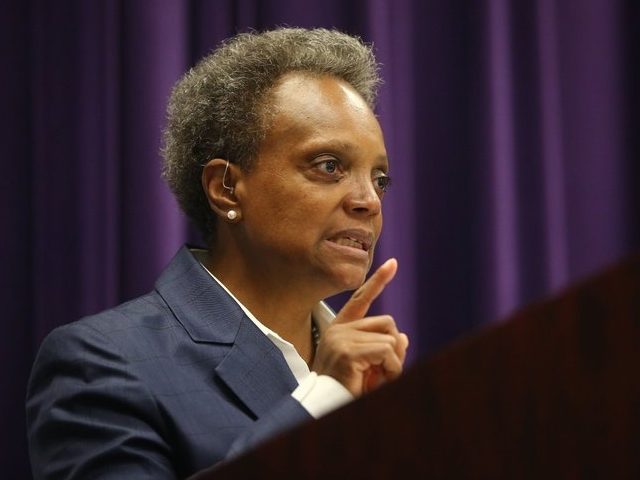 A 26-year-old mother shot multiple times in a drive-by shooting was among six killed Monday alone in Mayor Lori Lightfoot's (D) Chicago.
The first shooting homicide on Monday occurred just before 4:30 a.m., when a 70-year-old woman was ambushed and shot to death while sitting in her car outside a grocery store.
The Chicago Sun-Times reported two men "were in the 5000 block of West St. Paul Avenue" when someone opened fire on them about 12:35 p.m. Both men were killed.
ABC 7 explained a 26-year-old mother, Kristina de Jesus, was shot multiple times during a drive-by attack outside her home Monday evening. The mother of two was taken to a hospital where her six-year-old son kept asking doctors to get her to wake up.
It is just the latest tragic example of a chronic wave of gun violence that has afflicted the city for years, as Breitbart News has continually pointed out:ahawkinshttps://imasdk.googleapis.com/js/core/bridge3.475.0_en.html#goog_1406483084
The Sun-Times pointed out an identified male was shot in the head and killed around 6:30 p.m. and a male with multiple gunshot wounds "was found lying in the middle of the street in the 1300 block of West Farwell Avenue" around 9 p.m.
The male discovered in the street was taken to the hospital and pronounced dead.
7-year-old killed as shootings rock 3 major cities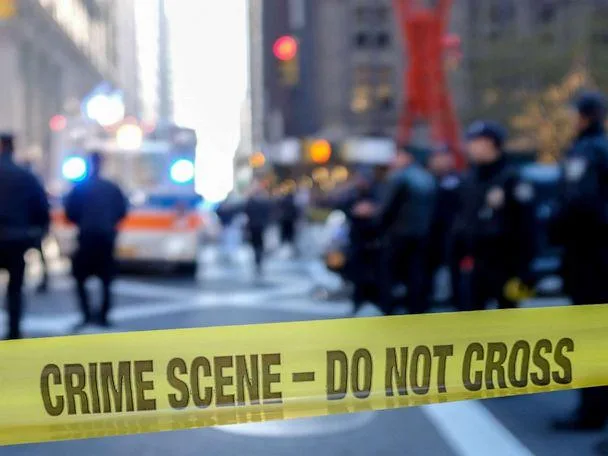 Everything about her was innocent.
Three major U.S. cities struggling to curb a surge in gun violence collectively had at least 70 people shot, 16 dead, including a 7-year-old girl, in multiple shootings this weekend, according to police.
The shootings in New York, Philadelphia and Chicago came as all three cities have seen sharp increases in the numbers of shootings in 2021.
In Chicago, at least 52 people were shot between 6 p.m. on Friday and 11:59 p.m. Sunday, nine of them fatally, according to the Chicago Police Department. Twenty-three of the shootings occurred over just a 4-hour period between 12:26 a.m. and 4:30 a.m. on Sunday, according to incident reports reviewed by ABC News.
Just before 3 p.m. on Sunday, a 7-year-old girl was killed and her 6-year-old sister was seriously wounded when someone opened fire on a parked vehicle they were sitting in the Belmont Central neighborhood on the city's Northwest Side, police said. The 7-year-old was shot in the chest and later died at a hospital.
Regina Broughton told ABC station WLS in Chicago that her granddaughter, Serenity Broughton, was the child who was killed and Serenity's little sister, Aubrey, is fighting for her life at Loyola University Medical Center in Chicago.
Prior to this weekend, more than 2,123 people had been shot in Chicago this year, which is a 12% increase from the same time period in 2020, according to police department crime statistics. Before this weekend, Chicago has recorded 478 homicides, a 2% increase over last year at this time.
The shootings this weekend in Chicago followed last weekend's violence, which saw 73 people shot in the city, 11 fatally.