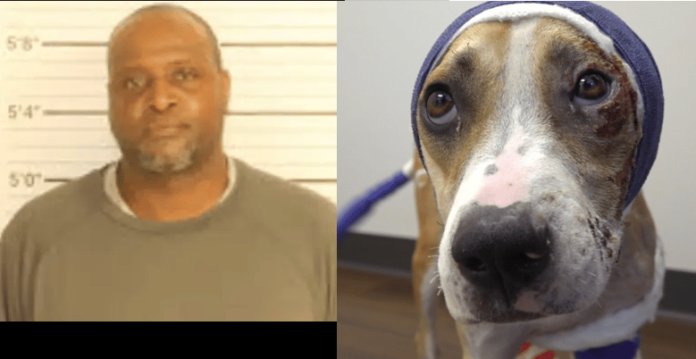 'You Can Shoot The Reporter': Man Accused of Setting Dog on Fire Has Bond Increased After Threat
MEMPHIS, Tenn. – A Nutbush-area man jailed on animal cruelty charges for setting fire to his dog last month saw his bond increased to $150,000 after prosecutors played a tape in court on which he threatened to shoot reporters if they come to his home again, said Shelby County Dist. Atty. Gen. Amy Weirich.
Quishon Brown, 43, remains in the Shelby County Jail on felony counts of aggravated cruelty to animals and setting fire to personal property, and a misdemeanor count of assault.
The one-year-old female dog now known as Riona suffered fourth-degree burns over 60 percent of her body when she was doused with an accelerant and set on fire on June 20.
Brown was arrested on July 12 and when shown photos of the badly burned dog he said "I did good with her." He told neighbors the previous day that whoever gave a surveillance video of the incident to the police and the media "is going to have their houses burned down."
His $5,000 bond was revoked on July 22 when the court learned that he had another dog at home, a violation of his b ond conditions. While in jail, Brown discussed his case in a recorded phone conversation with a woman at his home.
She said his address was on social media and that news reporters had knocked on the door, seeking a comment.
"You can shoot people when they come on your property," Brown replied on the recording played in General Sessions Court on Wednesday. "You can shoot the reporter. Wait til I get out. I'm going to shoot them, and I'm going to tell them I'm going to shoot them."
Judge Louis Montesi then set Brown's bond at $150,000. Senior Felony Asst. Bryce Phillips said he will ask for a financial source hearing if Brown produces funds to make the bond.
Brown's next court date is Wednesday Aug. 3.
---
SCDAO
Facebook Comments



News by Breaking911
Brother Fights With Sister, Knocking Mother's Casket Over During Funeral

During a funeral service in Richmond, California, a huge fight occurred, involving a brother and sister. It resulted in their mother's casket being knocked over and an apprehension.
The Richmond Police Department noted that the incident happened, on Saturday, at Rolling Hills Memorial Park.
Authorities say that during the fight, the sister's boyfriend intervened which escalated the situation.
The brother then entered his vehicle and tried to hit his sister but missed. On the other hand, he hit another woman and made the mother's casket fall over. It was documented that the body did not fall out.
The woman who was hit suffered non-life threatening injuries.
The brother also drove in grass and gravestones, which led to a water main break. In the end, the water flooded the plot that belonged to the funeral director's mother.
To add, a funeral attendee hit the 36-year-old brother with a cane once he exited his vehicle in order to 'get him under control.'
The brother received medical attention for a wound he suffered during the physical altercation and was then apprehended.
The park estimated that the total amount of damages is about $20,000. The manager noted that the cemetery will be paying for all repairs.
It was also reported that one relative brought a stun gun to the services because of a long history of problems within the family.


Post Views:
3
Brother Fights With Sister, Knocking Mother's Casket Over During Funeral
WATCH: Attorney General Merrick Garland makes statement in wake of FBI raid of Mar-a-Lago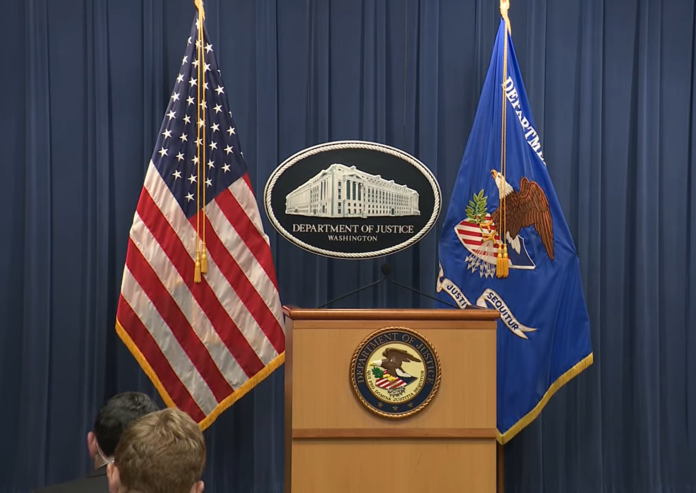 The FBI searched Donald Trump's Mar-a-Lago estate as part of an investigation into whether he took classified records from the White House to his Florida residence, people familiar with the matter said, a dramatic and unprecedented escalation of law enforcement scrutiny of the former president.
Facebook Comments
News by Breaking911
Police Search for California Teen Kiely Rodni Who Vanished From Campground Party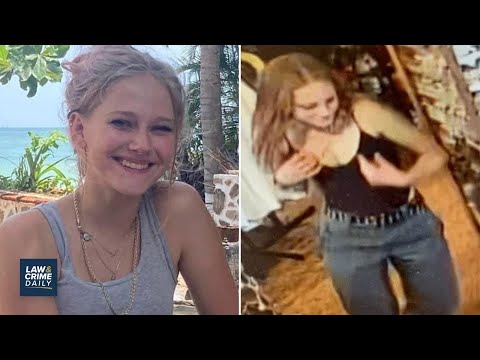 California police are searching for 16-year-old Kiely Rodni after she disappeared after a large party over the weekend. Plus, a (more…)