Philadelphia 911 dispatcher robbed outside police headquarters: report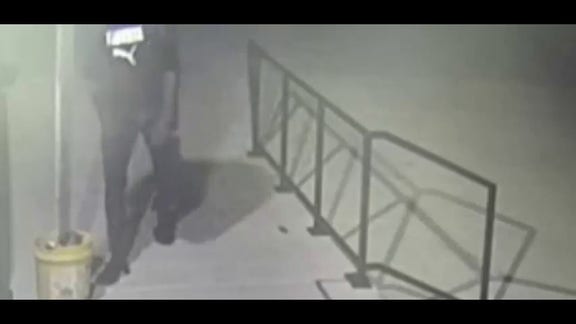 The 911 dispatcher was reportedly just steps from the Philadelphia's Police Department's headquarters when she was robbed
A man robbed a 25-year-old woman around 5:41 a.m. on Thursday morning near the Philadelphia Police Department's new headquarters.
A 25-year-old woman was walking along the 1400 block of Callowhill Street, right outside the Philadelphia Police Department's headquarters, when a man ran up to her from behind and robbed her around 5:40 a.m. on Thursday morning, according to police.
The victim, who had to be transported to a local hospital for injuries she sustained in the robbery, was a 911 dispatcher, union business agent Darnell Davis told the Philadelphia Inquirer.
"She's pretty bruised up," Davis told the newspaper, noting that she was 20 steps from the building when she was robbed. "And she's pretty shaken up."
The suspect, described as a Black male wearing a dark hooded sweatshirt with a "Puma" logo on the front and blue jogger pants, dragged the woman along the pavement until he was able to take her purse and flee the scene.
The robbery happened right outside the Philadelphia Police Department's new headquarters, which opened earlier this year. Multiple police cruisers can be seen parked on the street in surveillance video that was released of the suspect.
Philadelphia, like other big cities around the country, has seen crime surge in recent years.
Robberies with a gun have shot up 61.77%, while robberies without a gun have gone up 20.12%, according to police data. Homicides are roughly flat on the year, with 366 slayings through Sept. 11, compared to 369 at the same point in time in 2021.
'NOBODY MOVE! WHERE'S THE MONEY?!' Armed men in 'Scream' masks rob Seattle hair salon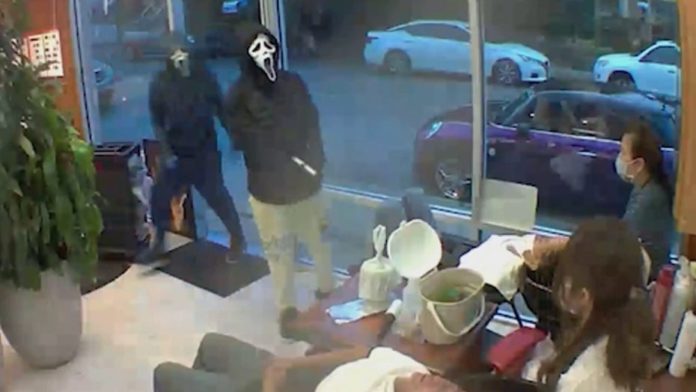 SEATTLE – Terrifying video shows three armed men in "Scream" masks robbing a Rainier Valley hair salon. The robbery happened at about 6:30 p.m. Sunday at the salon in the 6700 block of Martin Luther King Jr. Way South.
Florida man goes on joyride with stolen forklift, F-150 and four-wheeler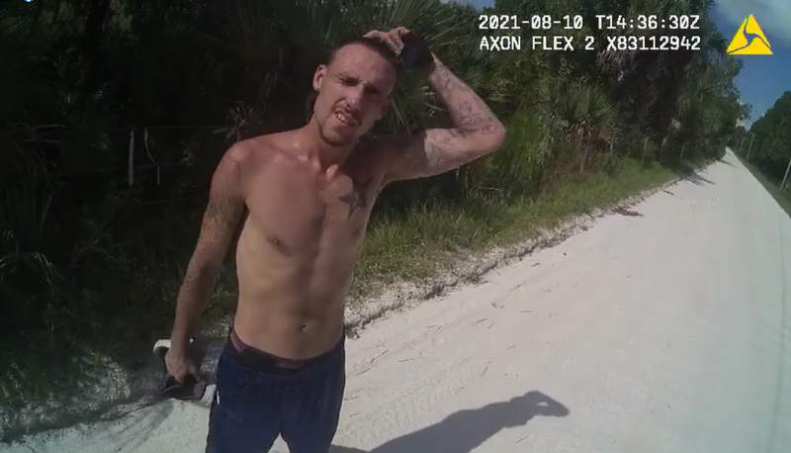 On August 10, 2021 Florida resident stole four different vehicles causing property damage in the interim.
Deputies of Volusia County were called out to the Pierson area on the 10th to investigate a crash on U.S. Highway 17 and Palmetto Avenue. Upon arriving they discover an abandoned stolen Ford F-150 truck. While investigating the crash the deputies were approached by witnesses who claimed that the man had stolen another F-150 truck and subsequently a forklift. Suspect rode the forklift until it ran out of gas.
Deputies then recieved another call reporting the same suspect had stolen a four-wheeler while the owners of said four-wheeler were hospitalized.
Suspect was discovered on a different property causing damage but fleed after a brief conversation with property owner.
Suspect was then identified to be Charles Harrington who was taken into custody when a neighbor reported him jumping over a fence and lurking in the woods. He was searched and deputies found the keys to the stolen F-150 and a catalytic converter he had boosted from one of the trucks.