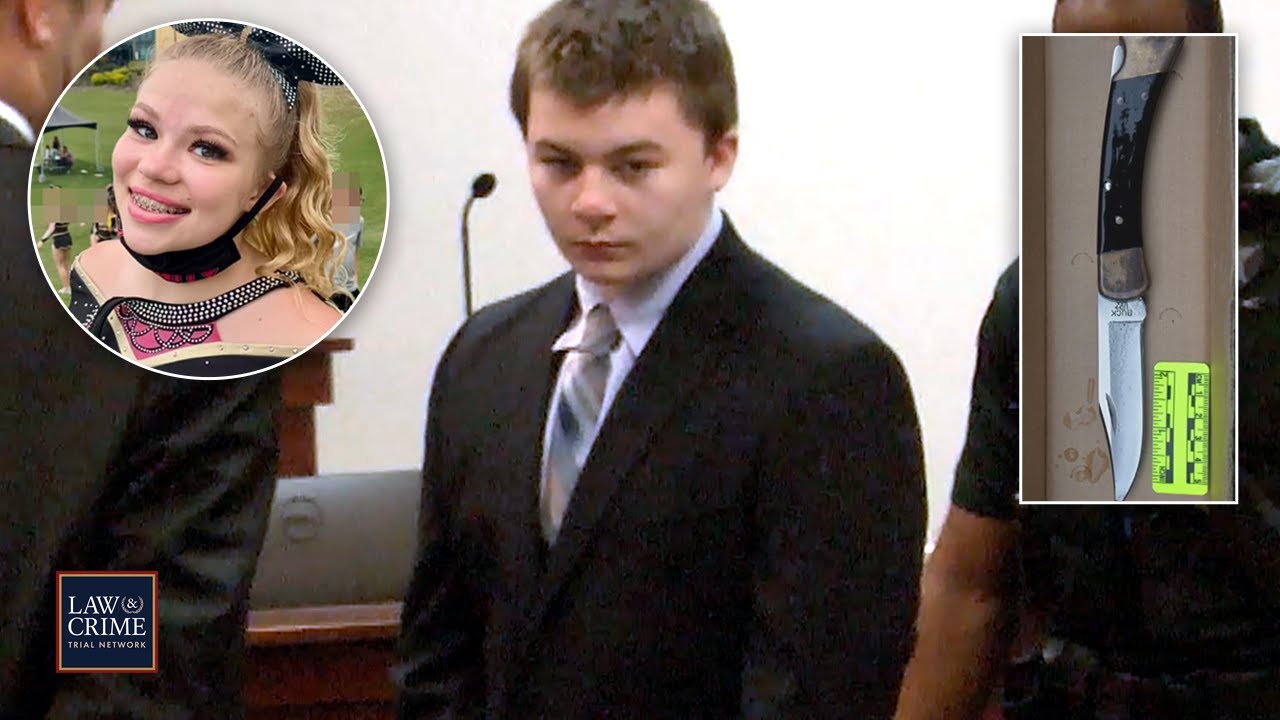 'Pure Evil': Aiden Fucci Admits to Stabbing Cheerleader to Death as Shocking Evidence Surfaces
Teen killer Aiden Fucci changed his mind ahead of his murder trial Monday and pleaded guilty to the fatal stabbing of 13-year-old Tristyn Bailey in May 2021. Authorities released shocking evidence ahead of the teen's trial that was to be used to convict Fucci. After his confession, Fucci now faces a mandatory minimum sentence of 40 years in prison. The Law&Crime Network's Angenette Levy breaks it down with legendary homicide detective Fil Waters.
Listen to Law&Crime's Sidebar Podcast on Apple & Spotify:
Apple: https://apple.co/3wMgRgB
Spotify: https://spoti.fi/3wITe7b
Hosts:
Jesse Weber: https://twitter.com/jessecordweber
Angenette Levy: https://twitter.com/Angenette5
Guest:
Fil Waters
LAW&CRIME SIDEBAR PRODUCTION:
YouTube Management – Bobby Szoke
Podcasting – Sam Goldberg
Video Editing – Michael Deininger
Guest Booking – Alyssa Fisher
Social Media Management – Kiera Bronson
#AidenFucci #TristynBailey #LawAndCrime
STAY UP-TO-DATE WITH THE LAW&CRIME NETWORK:
Watch Law&Crime Network on YouTubeTV: https://bit.ly/3td2e3y
Where To Watch Law&Crime Network: https://bit.ly/3akxLK5
Sign Up For Law&Crime's Daily Newsletter: https://bit.ly/LawandCrimeNewsletter
Read Fascinating Articles From Law&Crime Network: https://bit.ly/3td2Iqo
LAW&CRIME NETWORK SOCIAL MEDIA:
Instagram: https://www.instagram.com/lawandcrime/
Twitter: https://twitter.com/LawCrimeNetwork
Facebook: https://www.facebook.com/lawandcrime
Twitch: https://www.twitch.tv/lawandcrimenetwork
TikTok: https://www.tiktok.com/@lawandcrime
LAW&CRIME NETWORK PODCASTS: https://lawandcrime.com/podcasts/
SUBSCRIBE TO ALL OF LAW&CRIME NETWORK YOUTUBE CHANNELS:
Main Channel: https://www.youtube.com/channel/UCz8K1occVvDTYDfFo7N5EZw
Law&Crime Shorts: https://www.youtube.com/channel/UCVXOqoOCYbi-iXChKAl6DTQ
Channel B: https://www.youtube.com/channel/UCXCLaaClAWQiTkl3pw9ZdLw
Channel C: https://www.youtube.com/channel/UCMV3pzWIhJGLYzoHyxBjjNw
Stepmother On Trial: Letecia Stauch Accused of Killing 11-Year-Old Stepson in His Own Bed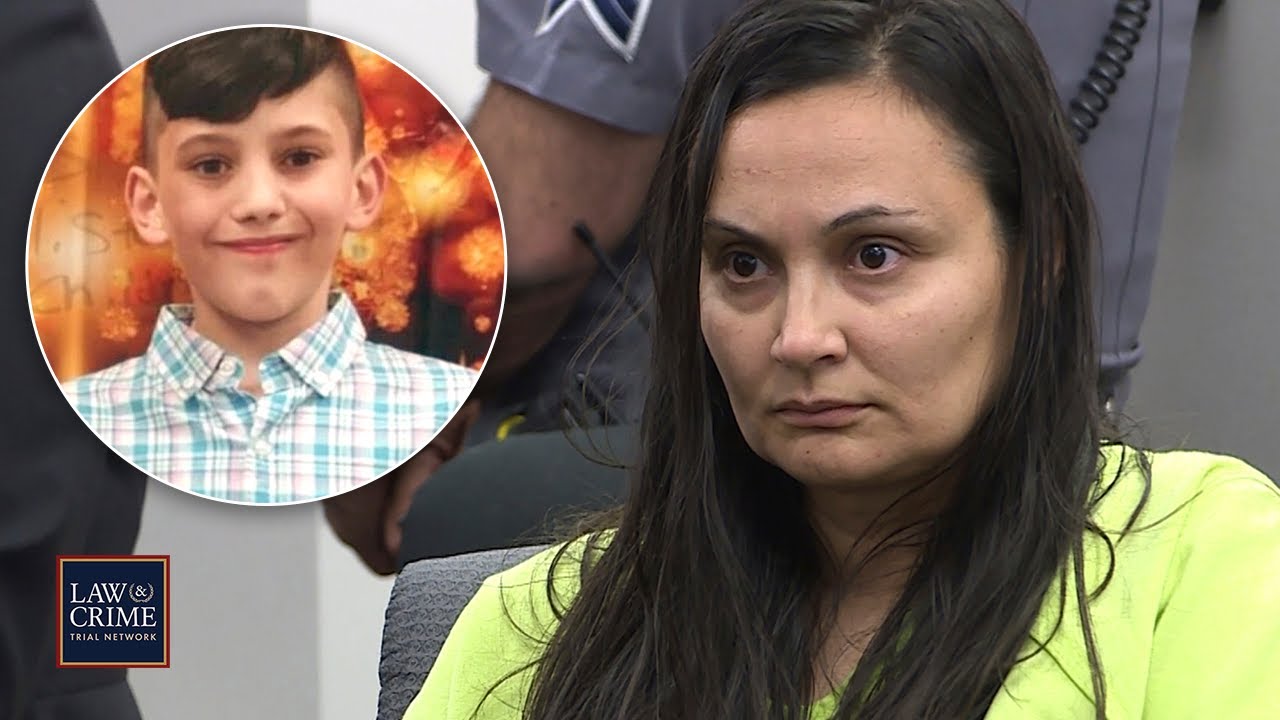 The Colorado woman accused of killing her 11-year-old stepson and dumping his remains across the country in Florida is facing (more…)
GRAPHIC: Body Cam Released Of Deadly Police Shooting Inside Maryland Apartment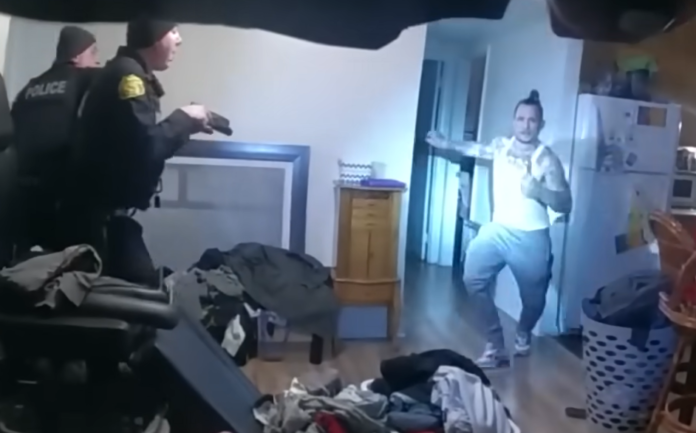 Frederick, Maryland — On Saturday, March 4, 2023, at approximately 6:20 p.m., three officers with the Frederick Police Department were dispatched to an apartment in the 1500 block of N. East Street to find a man with an open probation violation warrant who was believed to be at that location.
When the officers arrived, the apartment's resident denied that the man, 44-year-old Joseph Sherril was present, but allowed officers to come inside and search for him. Inside the apartment, one officer found Sherril hiding in a bedroom closet and armed with a knife. Officers began speaking with Sherril, giving him commands to "drop the knife," while backing away from him into the apartment's living room.
Sherril then rapidly moved toward one of the officers with the knife held out in front of him. At that point, two of the officers discharged their firearms, striking Sherril. Officers called for EMS and performed CPR, and Sherril was later pronounced dead on scene.
A knife was recovered near Sherril at the shooting scene. No officers were injured.
(H/t: @shanermurph / Twitter)
Facebook Comments



News by Breaking911
RAW VIDEO: California Deputies Kill Schizophrenic Man Armed With Spiked Bat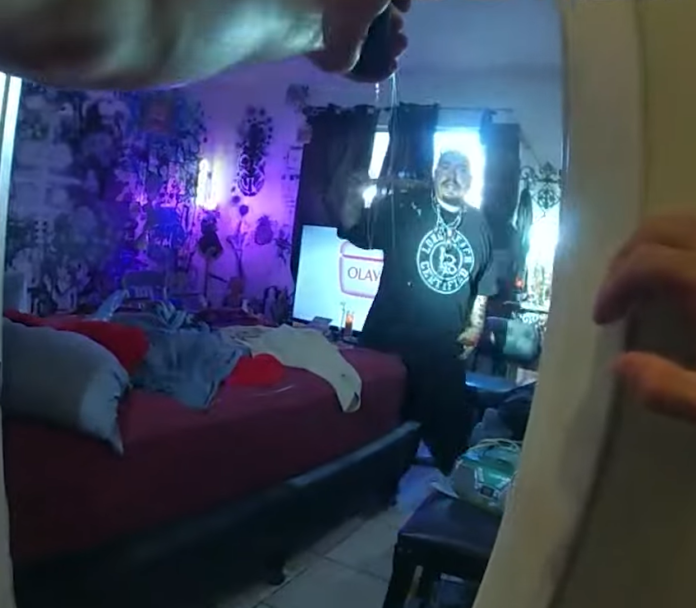 Moreno Valley, California (RCSO) — On Monday, February 6, 2023, at 12:31 PM, deputies responded to the 25400 block of Filaree Avenue in Moreno Valley reference a mentally disturbed subject.
The female reported her 33-year-old son, Jesus Antonio Rodriguez, who is diagnosed with schizophrenia, was under the influence of an unknown substance and being aggressive towards her.
When deputies arrived, Rodriguez ran to his bedroom and started yelling at them from the doorway. Deputies attempted to deescalate the situation, but he continued being aggressive and uncooperative. Rodriguez grabbed a baseball bat with sharp metal spikes on the end. Deputies deployed a taser twice, but it was ineffective.
Rodriguez advanced towards the deputies and a deputy-involved shooting occurred.
Lifesaving measures were taken by deputies and then paramedics, but Rodriguez was pronounced deceased at the scene.
Facebook Comments



News by Breaking911