MIAMI – Miami Mayor Francis Suarez and interim Police Chief Manuel Morales announced on Thursday that detectives were interrogating a suspect in two murders and attempted murder.
Suarez and Morales said Willy Maceo is a suspect in two shootings on Tuesday — including a man who remains hospitalized after he was shot in the head at 400 SW 2nd Ave., in Wynwood — and a man who died after he was shot near the intersection of Miami Ave and 21st Street
Maceo, 25, is also a suspect in a fatal stabbing on Oct. 16, 2021. He is a real estate agent. State records show he obtained his real estate license on June 13, 2018, and reported he lives in Miami-Dade County's Kendale Lakes neighborhood.
Officers arrested him for trespassing about 1:30 a.m. on Thursday at 445 NW 4th St., according to the arrest form. Maceo isn't facing felony charges yet, but Morales said there is plenty of evidence and it's only a matter of time before he does.
Morales described Maceo as a "suspected serial killer." He also said it's likely Maceo has targeted other homeless people in the city.
"This tragic news cuts to the heart of our community," Ronald L. Book, chair of the Miami-Dade County Homeless Trust said in a statement. "No one should be the victim of gun violence let alone our most vulnerable, those experiencing homelessness. We stand ready to work with City of Miami Police Department in any way necessary to help solve this senseless crime."
VIDEO: Man dripping in sanitizer catches into flames after getting tased by police in New York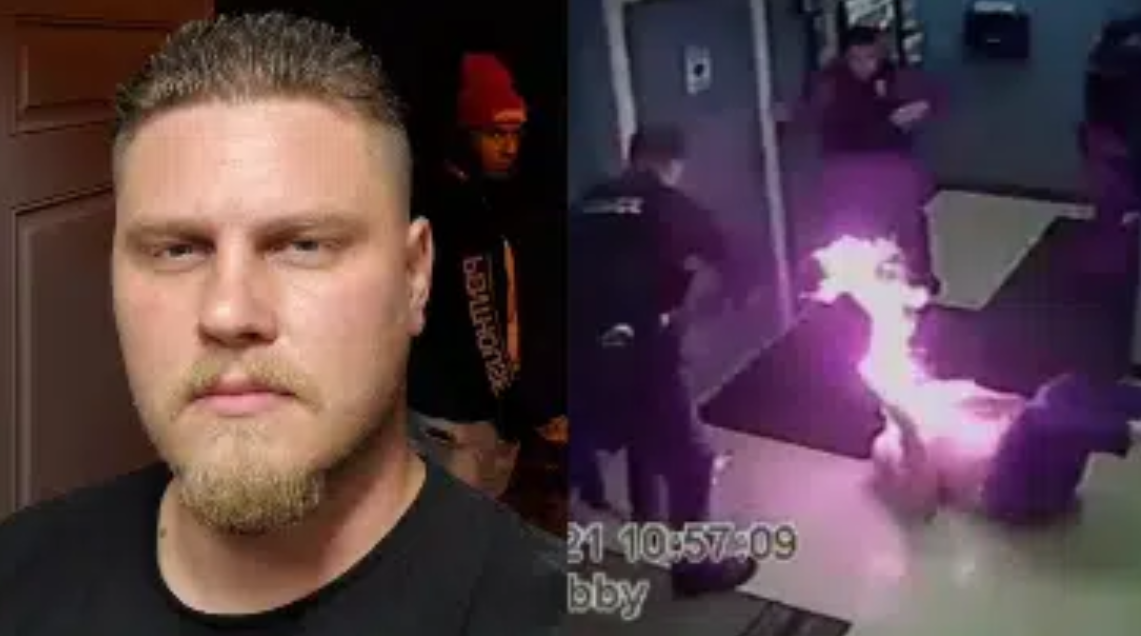 Shocking new video shows the moment a man who doused himself in sanitizer burst into flames after he was tased by police in New York.
Police say Jason Jones, 29, allegedly stormed into the Catskill Police Department on October 30 and an argument broke off with officers in the lobby.
During the confrontation, Jones doused himself with hand sanitizer and the disturbing video shows one of the officers pull out a stun gun and tase Jones, who immediately burst into flames. The chemical reaction caused by the electric wattage and the sanitizer caused Jones' skin to catch on fire.
The footage then shows Catskill police officers running for cover, leaving Jones behind as he desperately tried putting out the flames engulfing his upper body and head.
Jason Jones died on December 15 after spending six weeks in a medically-induced coma at the Westchester Medical Center Trauma & Burn Center in Syracuse.
"Jason was unarmed, in the police station, and not threatening anyone when the police hit him with 50,000 volts of electrical current and he ignited," said Kevin Luibrand, a lawyer representing the Jones family. "Instead of helping Jason, the police ran out the room, shut the door and let him burn."
After inhaling the heat and the fire, Luibrand says it destroyed the lining of Jones's lungs.
A law enforcement official with extensive experience training police on the use of force reportedly said officers are instructed to never use a Taser on an individual who may have been recently exposed to a flammable liquid, including hand sanitizer which contains alcohol.
He said officers also should have immediately shifted their actions to trying to assist Jones when he caught fire.
"Once the threat has been stopped, you don't just say, 'I'm going to let that person burn,'" the official said.
The office of New York Attorney General Letitia James is investigating his death.
VIDEO: Austin police officer punch woman resisting in the head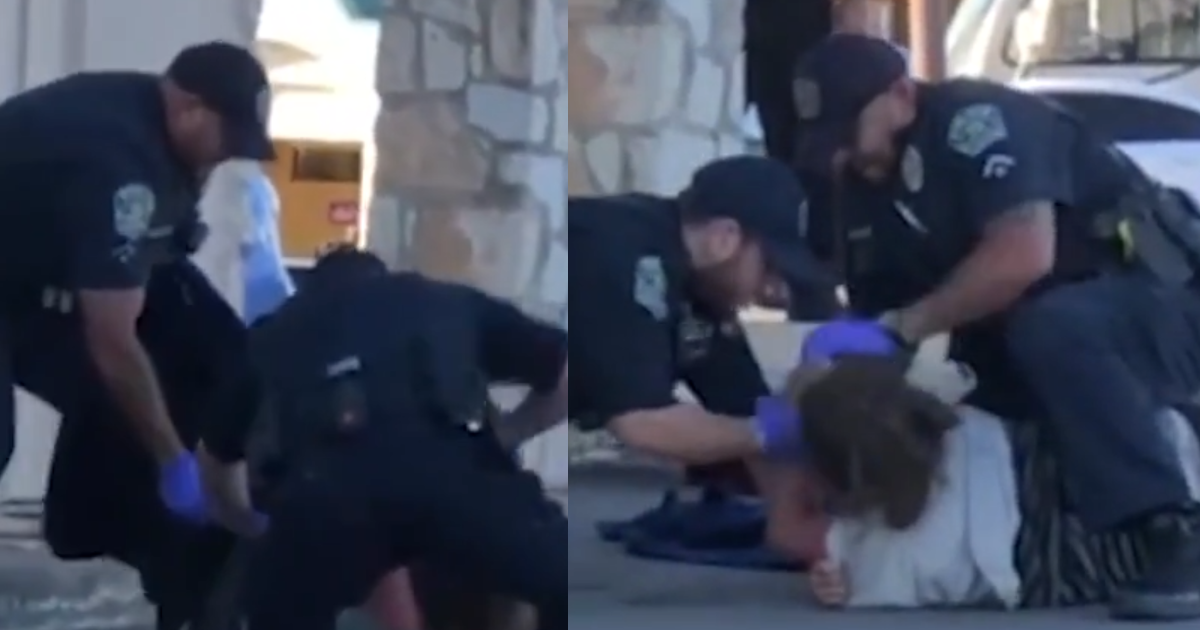 TEXAS — New bystander video shows the moment an Austin police officer punched a woman several times in the head as two officers restrained her on the ground.
Austin police said in an arrest affidavit that she refused to get up from the ground at an Austin shopping mall, in addition to scratching one of the officers.
According to the affidavit, 26-year-old Simone Nicole Griffith was seen camping and sleeping on the side of the Carousel Pediatrics-Springdale building in the area of 7112 Ed Bluestein Boulevard on October 30 at around 5:15pm.
Austin Police reports a criminal trespass notice was issued by a security guard for the complex, but Griffith still refused to leave.
Responding officers say Griffith refused to get up and was aggressively cursing "Shut the f### up, I ain't doing nothing. I know the m###########g law b####!".
When officers told Griffith she was under arrest, she said, "No I am not. I don't have to get up for you. You are not the law b####," police said.
When officers tried to place her in handcuffs, she pulled her hands away and hit an officer in the face, scratching him, according to police.
"[We] proceeded to tell [Griffith] not to resist but she kept fighting back," the affidavit read.
At that moment, one of the officers can be seen punching Griffith at least five times in the head and upper body.
The affidavit claims officers "ultimately had to use force to apprehend her even though Nicole was already notified that she was under arrest."
Police said the officer injured in the scuffle suffered a 1/2 inch bloody laceration to the left side of his cheek as well as kicking to his torso and hip area.
Griffith was charged with misdemeanor resisting arrest and criminal trespassing.
This is not Griffith's first run-in with the law, according to police. She's been arrested several times in the past and has been charged with resisting arrest in another Texas city.
Griffith has since filed a lawsuit against the city of Austin, where her attorney Rebecca Webber claims Griffith is "profoundly mentally ill" — and was camping on the sidewalk of the strip mall because she did not have a safe or permanent place to live at the time.
A use of force investigation is underway.
New Shocking Video in Fatal Burlington Store Shooting of 14-Year-Old Released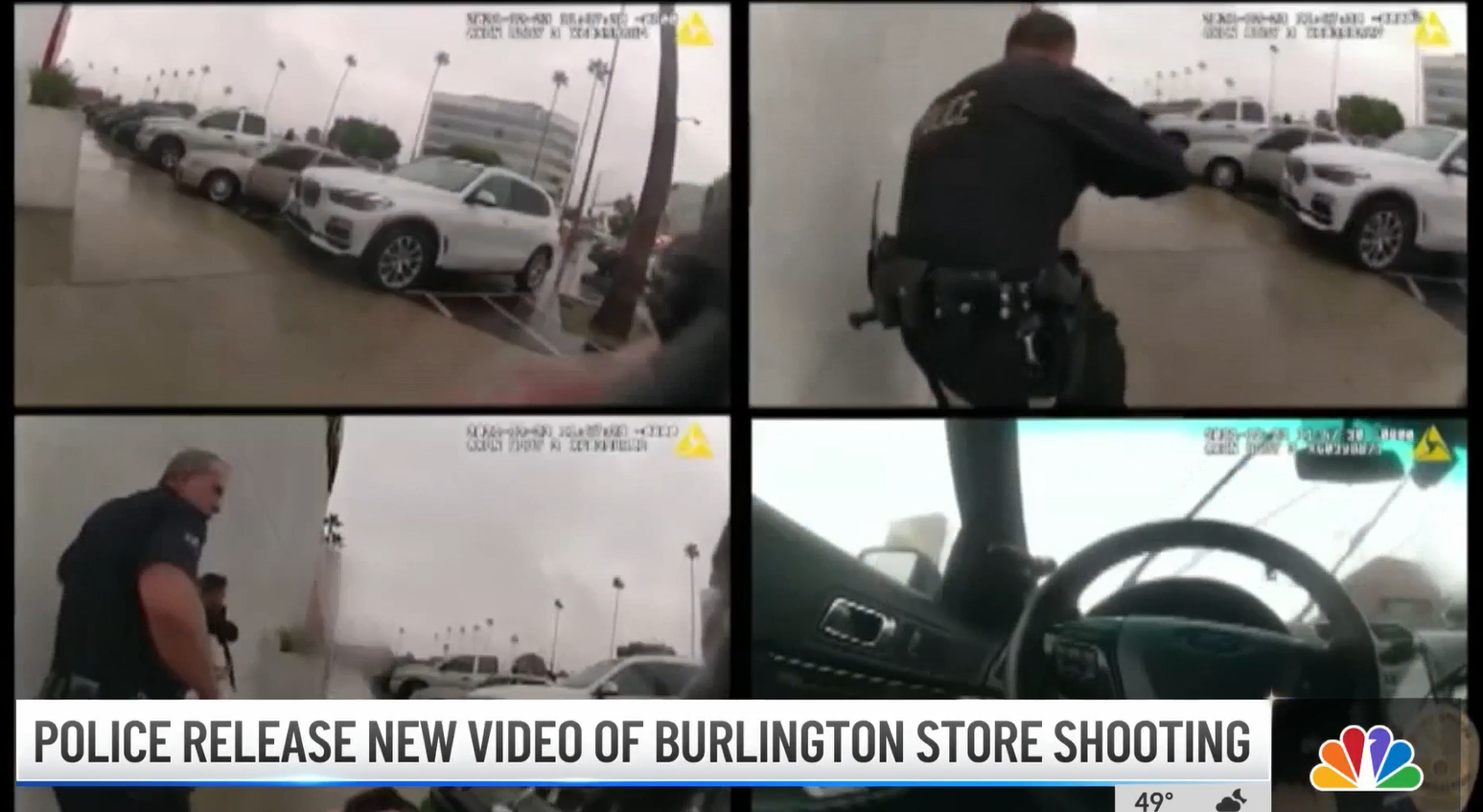 Witnesses described a chaotic scene inside the store crowded with holiday shoppers
Activists were asking if there was a way for officers to de-escalate without opening fire, while the LAPD released shocking video that showed the suspect beating a woman before officers shot him. 
"We at the LAPD would like to express our most heartfelt condolences and profound regret for this innocent victim, Valentina Orianna Peralta," the LAPD said in the newly released video. "There are no words to describe the depth of the sorrow we feel for this tragic outcome."
LAPD police chief Michel Moore expedited the release of the footage, saying he wants the public to get a full accounting of what happened.
Community activists have been anxiously awaiting the footage, demanding answers about whether the officer followed proper protocol. The concern was echoed by others who showed up to place flowers at a memorial outside the store.