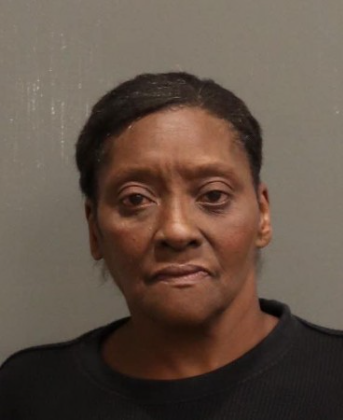 Driver Charged with Vehicular Homicide by Intoxication for Fatally Injuring Man in a Wheelchair
Fatal crash investigators tonight charged Linda Trice, 60, with vehicular homicide by intoxication, leaving the scene of a crash involving death, and driving on a revoked license in relation to this afternoon's collision on Gallatin Pike S at W Due West Avenue that killed a man in a motorized wheelchair.
The victim is identified as Stephen Carmon, 60, of Madison.
The investigation shows that Trice was driving her Chevrolet Monte Carlo north on Gallatin Pike at 1:20 p.m. when she traveled almost completely onto the sidewalk and struck Carmon, who, it appeared, was waiting for a city bus. He died at the scene.
Trice kept going. Her car was found by officers later in the afternoon at an apartment complex on East Webster Street. As the car was being examined, Trice approached and admitted she was the driver. She told officers that something was thrown at her windshield, causing her to swerve. As she spoke, Trice smelled of alcohol. She showed clues of impairment while performing field sobriety tasks. A blood sample from Trice will be analyzed by the MNPD Crime Laboratory for alcohol content.
Trice is being held tonight in the Downtown Detention Center in lieu of $153,600 bond.
1 Person Dies, 22 Hospitalized As Listeria Outbreak Spreads To Ten States

A Listeria outbreak has now infected 23 people throughout in 10 various states. One person from Illinois has died as a result. All but one of the individuals had to be hospitalized, states the Center for Disease Control and Prevention.
The agency reported that Listeria is a sickness that usually affects pregnant women, newborns, other adults, and people with weakened immune systems. It is unusual for those who aren't in one of these groups to get the illness. To add, antibiotics are used if a person is infected.
Symptoms are different, depending on the person and where they have been affected in their body. A small percentage of cases can lead to a fever or diarrhea.
For those with severe cases, they may experience invasive listeriosis which means bacteria extends pass the gut. If a woman is pregnant, she may experience muscle aches and fatigue. Headache, stiff neck, confusion, loss of balance, and convulsions are also symptoms.
Although it usually doesn't cause major symptoms in pregnant women, Listeria can cause fetuses and newborn babies to become very sick. It can result in miscarriage, stillbirth, premature delivery, or life-threatening infection in a newborn.
During the recent outbreak, five pregnant women became ill and suffered a miscarriage.
For people who are 65 or older, they could develop an infection in the bloodstream or brain. They may also experience problems with their joints, bones, chest, and abdomen.
Listeria outbreaks are almost always related to food contamination products. The CDC hasn't validated where the outbreak started. However, almost all of the people who had gotten sick reside in or had gone to Florida about a month prior to becoming ill. It's uncertain if that is a coincidence.


Post Views:
2
1 Person Dies, 22 Hospitalized As Listeria Outbreak Spreads To Ten States
Rowlett Man Pleads Guilty To Stalking And Killing His Former Girlfriend

35-year-old Andrew Charles Beard, from Rowlett, Texas, cyberstalked, shot, and fatally stabbed his ex-girlfriend. It occurred as the two were going through a custody battle.
Last week, Beard pleaded guilty to two violent federal crimes. He had been charged with cyberstalking using a dangerous weapon resulting in death and discharging a firearm during a crime of violence.
Beard will receive his punishment on October 6 and could receive two life sentences.
Authorities say that he admitted to stalking and killing his ex-girlfriend, Alyssa Burkett, 24. It happened in a parking lot in Carrollton on October 2, 2020. Beard wanted to have custody of the couple's daughter who was a 1-year-old at the time.
Beard confessed to placing a GPS tracker inside of Burkett's vehicle. He then trailed her to her apartment where he shot her in the head.
Burkett was able to get to a parking lot that was nearby. However, Beard found her and stabbed her 13 times.
Burkett's mother and colleagues informed authorities that she had been scared of Beard. She was worried that he had been following her and felt like he may kill her. Burkett's boyfriend added that Beard seemed to be "overly obsessed" with Burkett and their daughter.
"This was a brutal, bloody crime. Ms. Burkett's daughter is now suffering twin tragedies. Her mother is deceased, and her father is an admitted murderer. We pray for strength for this child and the rest of her family…" said U.S. Attorney Chad Meacham.


Post Views:
580
Rowlett Man Pleads Guilty To Stalking And Killing His Former Girlfriend
Texas Man Sentenced To 10 Years In Prison For Sexually Assaulting Horses

Jean Marie Bugoma, a 24-year-old man from Texas, confessed to having sex with a horse and sexually assaulting many others. He was sentenced to 10 years in prison.
On Wednesday, he was convicted after pleading guilty to bestiality.
The incidents occurred between June 2020 and February 2021. They happened at a San Antonio equine boarding facility, three different times.
Arrest documents note that Bugoma was seen on a recording, in the first instance, strolling through the stables, naked.
Not long after that, the owner saw that two of his horses were hurt. A vet later stated that the horses had been sexually assaulted.
Months after that, Bugoma went back to the stables and had sex with one of the horses. Two other horses were discovered with their legs bound together.
In February of last year, the owner caught Bugoma who had returned to the stables again. Authorities got a warrant and DNA from one of the horses matched that of the suspect.


Post Views:
25
Texas Man Sentenced To 10 Years In Prison For Sexually Assaulting Horses