involved in a drag race last week that led to two totaled vehicles and damage to a residence in Washington, D.C.
The incident occurred on Thursday in the city's Kenilworth neighborhood and resulted in the four officers being sent to area hospitals with non-life threatening issues. The officers have been placed on leave.
Fox 5 DC, which first reported on the crashes, obtained an internal email sent by MPD's 6th district commander, Durriyyah Habeebullah, on Friday that indicated the race and subsequent crashes occurred around 5 p.m.
"Yesterday two 6D scout cars were totaled because officers decided instead of fighting crime, patrolling their beats, or engaging the community – they decided to drag race each other on Anacostia Avenue at 5 pm in the evening," the commander wrote.
"What does this say to all the members of MPD who are passionate about their job and work hard every day to make a difference. This is not fair to any of us," she continued.
In a statement to The Hill on Monday, MPD officials confirmed aspects of the Fox 5 report.
"MPD is currently investigating an incident in which two MPD vehicles were involved in a traffic accident on Thursday, April 22, 2021, in the 1400 block of Anacostia Avenue, NE. Preliminarily, it appears the members may have been racing the vehicles, resulting in an accident. Four Sixth District MPD members were taken to area hospitals for treatment of non-life threatening injuries. The members involved have been placed on non-contact for the course of the investigation," said an MPD spokesperson.
Video obtained by Fox 5 DC shows two wrecked squad cars, while another photo posted on Twitter showed damage to a fence caused by one or both of the cars.

SEE IT: Off-Duty Officers Go At It With An Armed Driver Outside Of A Bar
Surveillance footage from the Grandstand Bar captured a struggle between an armed Billings driver and off-duty law enforcement personnel. This video, edited by The Billings Gazette, highlights noteworthy scenes from that night. The driver pulled away the second time he could see police cars with their lights flashing coming, and he drove off west onto Grand Avenue where he crashed his car, landing upside down in the parking lot. He suffered a traumatic brain injury, and during his time in the hospital he ran up thousands of dollars in medical bills. He still wears a neck brace today.
VIDEO: Man dripping in sanitizer catches into flames after getting tased by police in New York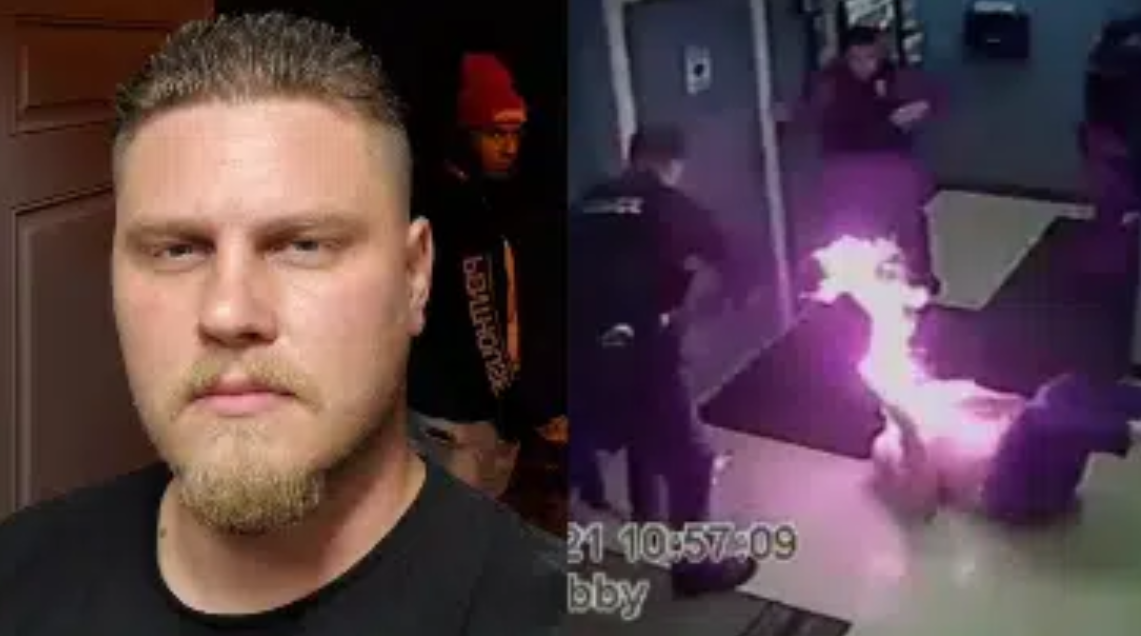 Shocking new video shows the moment a man who doused himself in sanitizer burst into flames after he was tased by police in New York.
Police say Jason Jones, 29, allegedly stormed into the Catskill Police Department on October 30 and an argument broke off with officers in the lobby.
During the confrontation, Jones doused himself with hand sanitizer and the disturbing video shows one of the officers pull out a stun gun and tase Jones, who immediately burst into flames. The chemical reaction caused by the electric wattage and the sanitizer caused Jones' skin to catch on fire.
The footage then shows Catskill police officers running for cover, leaving Jones behind as he desperately tried putting out the flames engulfing his upper body and head.
Jason Jones died on December 15 after spending six weeks in a medically-induced coma at the Westchester Medical Center Trauma & Burn Center in Syracuse.
"Jason was unarmed, in the police station, and not threatening anyone when the police hit him with 50,000 volts of electrical current and he ignited," said Kevin Luibrand, a lawyer representing the Jones family. "Instead of helping Jason, the police ran out the room, shut the door and let him burn."
After inhaling the heat and the fire, Luibrand says it destroyed the lining of Jones's lungs.
A law enforcement official with extensive experience training police on the use of force reportedly said officers are instructed to never use a Taser on an individual who may have been recently exposed to a flammable liquid, including hand sanitizer which contains alcohol.
He said officers also should have immediately shifted their actions to trying to assist Jones when he caught fire.
"Once the threat has been stopped, you don't just say, 'I'm going to let that person burn,'" the official said.
The office of New York Attorney General Letitia James is investigating his death.
VIDEO: Austin police officer punch woman resisting in the head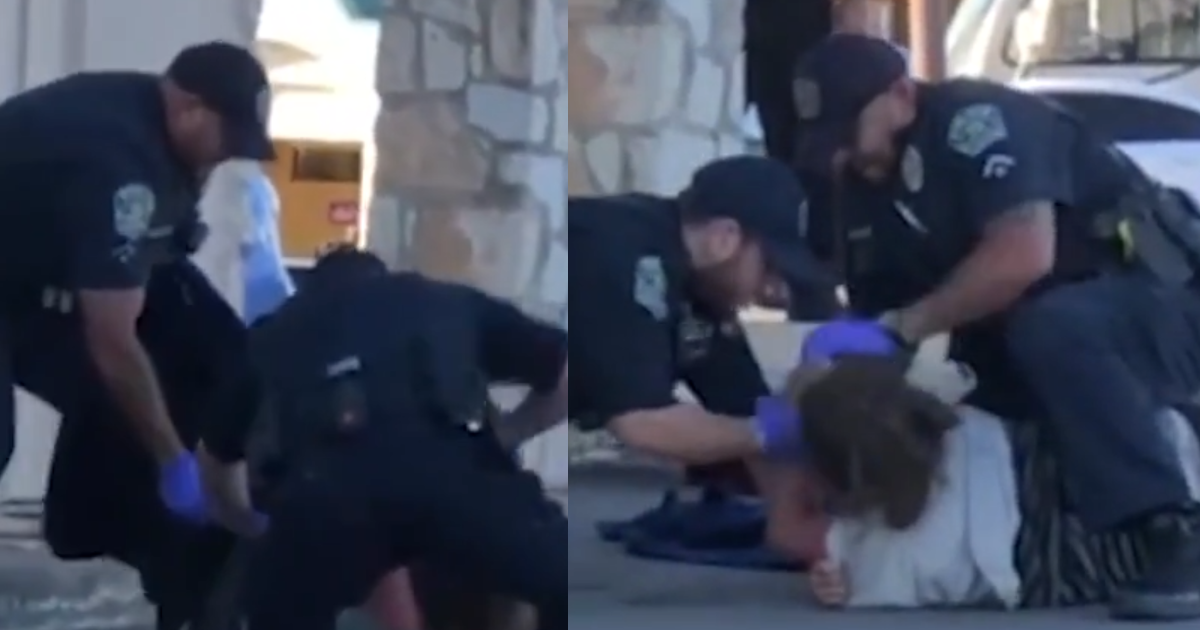 TEXAS — New bystander video shows the moment an Austin police officer punched a woman several times in the head as two officers restrained her on the ground.
Austin police said in an arrest affidavit that she refused to get up from the ground at an Austin shopping mall, in addition to scratching one of the officers.
According to the affidavit, 26-year-old Simone Nicole Griffith was seen camping and sleeping on the side of the Carousel Pediatrics-Springdale building in the area of 7112 Ed Bluestein Boulevard on October 30 at around 5:15pm.
Austin Police reports a criminal trespass notice was issued by a security guard for the complex, but Griffith still refused to leave.
Responding officers say Griffith refused to get up and was aggressively cursing "Shut the f### up, I ain't doing nothing. I know the m###########g law b####!".
When officers told Griffith she was under arrest, she said, "No I am not. I don't have to get up for you. You are not the law b####," police said.
When officers tried to place her in handcuffs, she pulled her hands away and hit an officer in the face, scratching him, according to police.
"[We] proceeded to tell [Griffith] not to resist but she kept fighting back," the affidavit read.
At that moment, one of the officers can be seen punching Griffith at least five times in the head and upper body.
The affidavit claims officers "ultimately had to use force to apprehend her even though Nicole was already notified that she was under arrest."
Police said the officer injured in the scuffle suffered a 1/2 inch bloody laceration to the left side of his cheek as well as kicking to his torso and hip area.
Griffith was charged with misdemeanor resisting arrest and criminal trespassing.
This is not Griffith's first run-in with the law, according to police. She's been arrested several times in the past and has been charged with resisting arrest in another Texas city.
Griffith has since filed a lawsuit against the city of Austin, where her attorney Rebecca Webber claims Griffith is "profoundly mentally ill" — and was camping on the sidewalk of the strip mall because she did not have a safe or permanent place to live at the time.
A use of force investigation is underway.