Baltimore, Maryland – U.S. District Judge Deborah K. Chasanow sentenced Kyle David Robinson, age 29, of Baltimore, Maryland to 126 months in federal prison, followed by 8 years of supervised release, for sex trafficking of a minor.
The sentence was announced by United States Attorney for the District of Maryland Erek L. Barron; Special Agent in Charge James C. Harris of Homeland Security Investigations (HSI) Baltimore; Chief Gregory Der of the Howard County Police Department; and Commissioner Michael Harrison of the Baltimore Police Department.
"Robinson manipulated a 14-year-old minor victim, sexually abused her, and advertised her for commercial sex dates for his financial benefit. In coordination with our law enforcement partners, our office continues to combat human trafficking through law enforcement training, persistent prosecution, and awareness," said U.S. Attorney Erek L. Barron. "As tomorrow is World Day Against Trafficking in Persons, I encourage Marylanders to learn about the common signs of human trafficking and report suspected human trafficking cases to the National Human Trafficking Hotline at 1(888) 373-7888".
According to his plea agreement, Robinson knowingly recruited, enticed, transported, and advertised a 14-year-old female (Minor Victim 1) to engage in commercial sex acts for his own financial benefit. Robinson admitted that he was aware that Minor Victim 1 was 14-years old prior to advertising her for commercial sex.
In May 2021, Robinson approached Minor Victim 1 in his vehicle while Minor Victim 1 was sitting on the steps of near a group home where she resided. Robinson told Minor Victim 1 that he was a pimp and referred to himself as "Youngblood". Despite Minor Victim 1 informing Robinson that she was a minor, Robinson asked for Minor Victim 1's phone number and sent her a text message. The following day, Robinson picked up Minor Victim 1 from the group home and brought her to his residence.
As detailed in his plea, in May and June 2021, Robinson transported Minor Victim 1 to his residence on multiple occasions. On at least one occasion, Robinson engaged in unprotected sex with Minor Victim 1. After one interaction in which Robinson had intercourse with Minor Victim 1, Robinson told Minor Victim 1 that she had to "break herself" to him, took $50 from Minor Victim 1, and told Minor Victim 1 that she should call him "daddy".
Robinson advised Minor Victim 1 to download a social media application for the purpose of communicating with potential commercial sex customers. Robinson then scripted responses to potential customers on Minor Victim 1's behalf. Additionally, Robinson sent verbally hostile messages to Minor Victim 1 and instructed her to always keep her phone with her.
On June 4, 2021, in a text message with Minor Victim 1, Robinson informed Minor Victim 1 that he had to physically assault Victim 2, a 19-year-old female, for having a boyfriend. Robinson arranged for Victim 2 to reside at his residence and for Victim 2 to go on commercial sex dates. Like Minor Victim 1, Robinson had unprotected sex with Victim 2, and required Victim 2 to pay him money to associate with him.
As stated in his plea agreement, after law enforcement received information that Robinson offered young females for commercial sex, investigators arranged for an undercover agent to arrange for commercial sex. In a conversation with the undercover agent, Robinson told the undercover agent that he had young girls and that he had two teenagers available for an hour at the rate of $1,000. The undercover agent offered to pay $500 for half an hour with a tentative date and Robinson agreed. Later in the conversation, Robinson told the undercover agent that he had only one female available because of a conflicting school schedule.
On June 7, 2021, Robinson called the undercover agent to arrange for two victims, including Minor Victim 1, to have commercial sex with the agent at a hotel. Surveillance cameras captured Robinson and Minor Victim 1 as they entered the hotel for the commercial sex date. Within the hotel room, the undercover agent offered $750 to have sex with Minor Victim 1. Robinson then accepted the money for the sex date. Shortly after, law enforcement entered the room and apprehended Robinson and secured Minor Victim 1.
---
DOJ
Facebook Comments



News by Breaking911
MANHUNT: Cops Search For Man Accused Of Killing Woman In Daytona Beach; Schools On Lockdown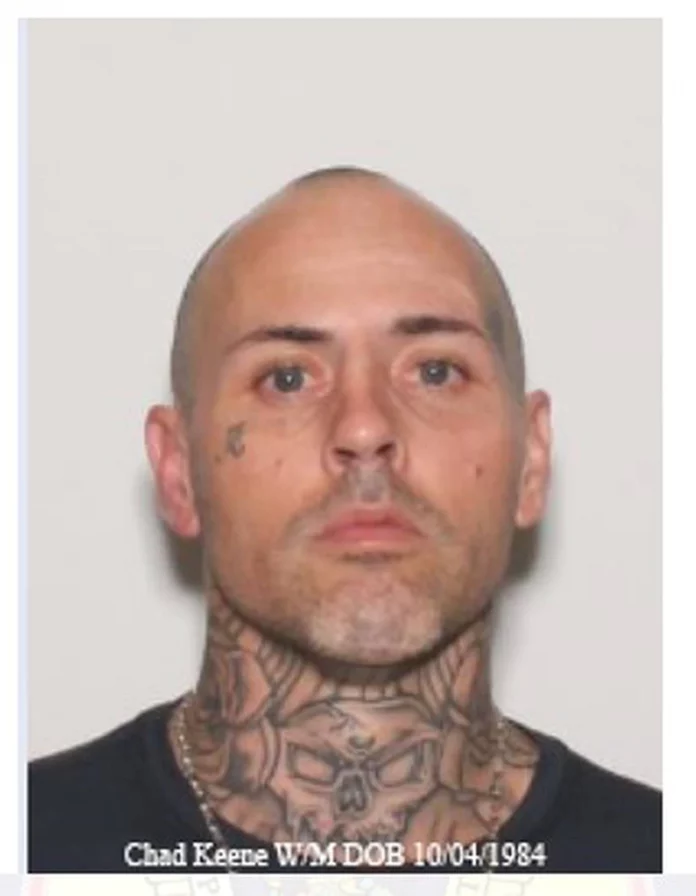 FLORIDA – The Daytona Beach Police Department (DBPD) is investigating a murder which occurred today at 11:56 a.m. near Glenview Blvd.
A 30-year-old woman was transported to Halifax Medical Center, where she succumbed to her injuries.
Police are actively looking for Chad Keene, 37, — last seen in that immediate area — following the shooting death of Karli Elliott, 20.
Three neighboring schools have been placed in lock down. These include: Ortona Elementary, Our Lady of Lourdes, and Riverview Learning Center.
Next of kin has been notified.
No other information is available.
Facebook Comments
News by Breaking911
19 Year Old Arrested For Murder In Dallas

On August 16, Dallas police arrested 19 year old Anthony Charles Barber Jr in connection with murder.
Authorities responded to a shooting call around 10:20 p.m., on May 20,2022, in the 3000 block of E. Ledbetter Drive.
Upon arrival they found an unidentified male in front of the apartment complex suffering from a gunshot wound.
He was transported to an area hospital where he later succumbed to his injuries.
Barber Jr. was arrested and booked into Dallas County Jail for murder. His bond is set for $500,000.


Post Views:
3
https://www.smashdatopic.com/19-year-old-arrested-for-murder-in-dallas/

Family Mourning After 13 Year Old Boy Dies From Accidental Fentanyl Overdose

A family is mourning after finding a family member deceased in the bathroom from an accidental fentanyl drug overdose.
13 year old Jose Hernandez was found hunched over the bathroom sink dead early Wednesday morning by his grandmother.
The family says Jose had just started 8th grade at Aurora Hills Middle School Tuesday, in Colorado. They believe that Jose got some drugs from another child at the school and died from a fentanyl drug overdose.
His uncle said, "He seemed OK". There was no history of him doing any types of drugs or anything like that. I think it was just the crowd he decided to hang out with, and maybe them thinking it was good to tell him 'hey maybe try this out.'"
He also said, "I would just say to the parents, keep an eye open to your kids if they're feeling sad or depressed or something, help them out you know? I know my nephew wasn't depressed or anything like that, but maybe he was a curious kid and wanted to try it out."
The family is awaiting for the autopsy results to determine Jose's actual cause of death.
Aurora PD is currently investigating this case and have not commented.


Post Views:
2
https://www.smashdatopic.com/family-mourning-after-13-year-old-boy-dies-from-accidental-fentanyl-overdose/